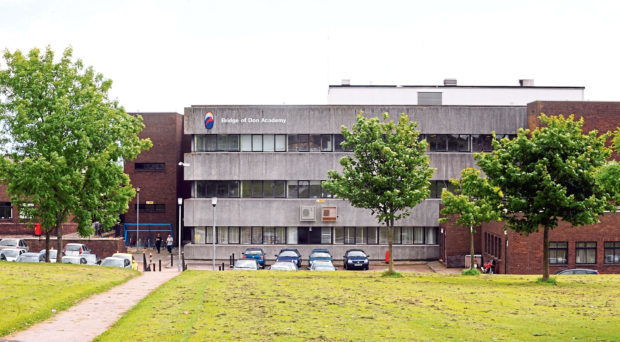 A union has called for an investigation into asbestos exposure to be completed "sooner rather than later".
The probe was launched after the discovery was made during maintenance work at Aberdeen's Bridge of Don Academy in July.
The Health and Safety Executive (HSE) immediately launched an investigation into the incident, which it confirmed is still "ongoing".
Unite regional representative Tommy Campbell said: "We're looking forward with interest to receiving the HSE report.
"Hopefully, it will be produced sooner rather than later given this issue is now almost two months old."
The school reopened as normal after the holidays, despite calls from Unite the union to keep it closed until it saw proof that the dangerous material had been safely removed.
It was revealed 25 people were allowed into the school after asbestos was disturbed during maintenance work last month.
The material was disturbed by building service workers during the removal of a panel in a corridor on July 12.
An internal report reveals work began on the school on July 9, in what was envisaged as a six-week project to install new security doors and carpeting, plus carry out painting and plumbing.
But on July 12, while removing panelling from a door, a worker using a hammer and chisel discovered asbestos. It was later taken away for testing and confirmed as the minerals. An investigation by the council previously revealed no emergency response took place because the line manager "forgot" about the incident for five days.
The city council previously said it had received the "necessary authorisation" from HSE to proceed with reopening the school last month. It added works were undertaken to remove the material following all asbestos regulations with the necessary certification.
A second asbestos incident was discovered at Hazlehead Academy following the Bridge of Don incident, by a worker replacing windows, which the council admitted was done "without agreement on safe working practices".
An HSE spokesman said: "HSE is aware of the incident and is investigating.
"As this investigation is ongoing we cannot comment further."
Aberdeen City Council declined to comment.