Bus drivers want to "build bridges" with bosses after a deal was struck to end a bitter dispute, their union boss said today.
Unite the Union members voted 60% to 40% to approve a deal after negotiations with First Aberdeen.
The deal means that drivers were back at work today, following 10 days of action in recent weeks.
Andrew Jarvis, the managing director of First Bus in Scotland, welcomed the deal.
He said: "We are delighted with the news that Unite the Union members have voted to accept the new terms and conditions package.
"This has been a challenging process for everyone involved, but we now must look to quickly mend relationships and get back to providing the best possible bus service for the city of Aberdeen.
"I would like to apologise to our customers for the disruption that they have endured but they can now be assured that First Aberdeen services will resume with immediate effect."
Unite's Willie Wallace announced the result at the trade union's offices.
Mr Wallace said: "It's been a long and difficult dispute, our members have been resolute in their actions and I think that has brought the company back to the table on several occasions. We can now hopefully put this matter behind us and move on, and build some bridges with First Bus."
The acceptance of the deal comes after members rejected an offer on Monday.
This led to First Aberdeen making a last-ditch offer on Tuesday, to avert indefinite strike action.
Mr Jarvis said that the company plans to compensate the people of Aberdeen.
He said: "That's something that our commercial colleagues are looking at, how do we rebuild the trust of the public, and how do we thank people for being patient and sticking with us? That's top of our agenda."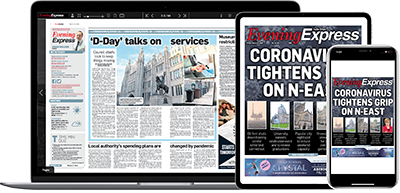 Help support quality local journalism … become a digital subscriber to the Evening Express
For as little as £5.99 a month you can access all of our content, including Premium articles.
Subscribe