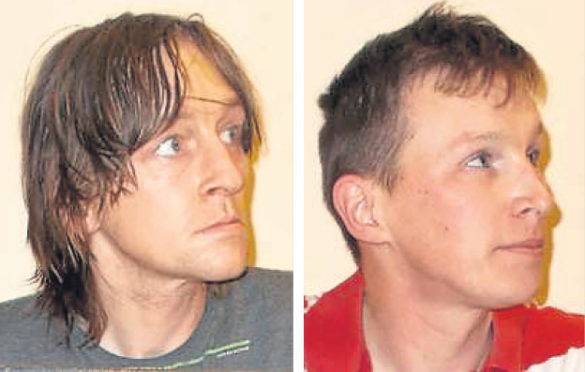 Two men who barged into a north-east flat armed with a sawn-off shotgun have been jailed for a total of 17 years.
Slessor Buchan and Scott Fowler forced their way into Colin Verral's home wearing wrestling masks and assaulted and robbed him, while brandishing the firearm.
Yesterday a judge told the pair that it was an "appalling" crime while police welcomed the conviction and said it was time they faced up to the "enormity" of their "terrifying" actions.
Buchan and Fowler, who have 35 previous convictions between them, had denied the offence, and had been on trial at the High Court in Aberdeen.
Mr Verral told the jury that as Buchan and Fowler shot the gun into the ceiling, he passed out, and was not sure if he was "alive or dead".
And LeeAnn Shaw told the court she was tasked with getting Mr Verral's door open in exchange for drugs – but was then jumped by three men, who carried out the robbery.
She is already serving a year in jail for her part in the crime.
The court was also shown a Facebook post from Fowler, 38, from the summer of 2016 wearing a wrestling mask like the one described by Mr Verral. However, he told the jury he had got rid of it late last year. Police have never managed to find the gun or the masks used in the robbery.
But the jury of 10 women and five men took just over three hours to find Buchan, 39, and Fowler, 38, guilty.
The two men showed no reaction as the verdict was read out.
Following the verdict, Lord Uist said: "You have both been convicted by the jury of an appalling assault and robbery of a man in his home in Fraserburgh in January this year.
"The most alarming aspect of this case is that you have a sawn-off shotgun which has never been recovered.
"Only real criminals have sawn-off shotguns."
He pointed to the pair's extensive criminal records and revealed Buchan has 11 convictions, mostly for drug-related offences, while Fowler has 24, including six for assault and one for assault and robbery.
He jailed Buchan for seven years and Fowler for 10 years.
Police Scotland's Detective Sergeant George Nixon said: "Buchan and Fowler took their threatening behaviour to the extreme by using a firearm to deliberately frighten their victim.
"It would have been a terrifying experience and one which would have a long-lasting impact if you believed your life was at risk.
"The pair also showed no regard for the surrounding community as they carried out their appalling act.
"Incidents of this nature are unheard of in Fraserburgh – let alone the north-east – and they acted with no consideration for the fear and alarm they would inevitably cause.
"I welcome today's conviction so that they can now start facing the consequences of the enormity of their actions."