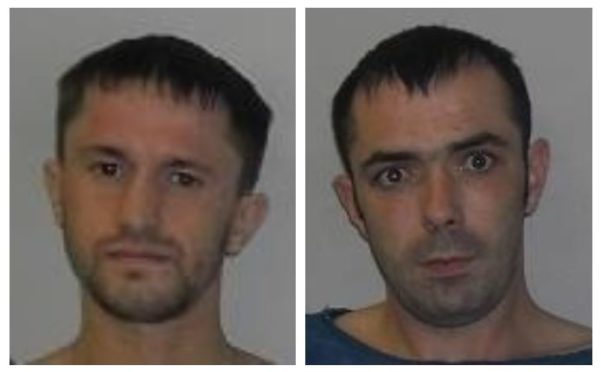 Two men have been handed life sentences for beating a man to death at an Aberdeen flat.
It was the second time that a jury has found the pair guilty of murder.
Ryan Gibb, 32, and Cameron Laurie, 33, were jailed for a minimum of 18 years each after a jury found them guilty of murdering James Chadwick, following a retrial.
Gibb and Laurie carried out a drink-fuelled attack on Mr Chadwick, 37, who had previously been in a relationship with Gibb's mother Tracey for five years. The attack took place in his Holland Street flat on August 31 going into September 1 2015.
Mr Chadwick's body was not found until September 9. It can now be revealed the pair had previously been found guilty of murdering Mr Chadwick in 2016, but that conviction was quashed following an appeal last November.
Appeal documents state that the original trial judge had withdrawn the possibility of a verdict of the lesser charge of culpable homicide when charging the jury.
A report into the appeal states that this was because "the litany of injuries was such that there was no scope for a conviction for culpable homicide". The documents state that the trial judge had "misdirected the jury" and that had resulted in "a miscarriage of justice", which was the basis on which the appeal was granted.
Both men, prisoners of HMP Grampian, had denied murdering Mr Chadwick, but following a second trial which started last month and lasted two-and-a-half weeks at the High Court in Aberdeen, a jury found the duo guilty of murder.
Gibb and Laurie struck Mr Chadwick on the face, punching and struggling with him and kicked and stamped on his head and body.
However, an allegation that they struck him with a dog lead was deleted from the charge.
The jury also found them guilty of attempting to defeat the ends of justice by attempting to clean blood from floors and surfaces and falsely claiming to have witnessed a man being assaulted. The court previously heard that Mr Chadwick died from a subdural haemorrhage from a blow to the head.
However, he had a number of other injuries caused by "blunt force trauma".
The court had previously heard Gibb told police a row had broken out on the night of the incident when Laurie made a comment about Mr Chadwick's drinking.
After the jury returned their verdict, Keith Stewart QC, representing Gibb, said in light of the decision there was "little that can be said by way of mitigation".
He added: "Throughout these proceedings Mr Gibb has repeatedly expressed the desire for these proceedings to be brought to a close as quickly as possible."
Defence advocate Ximena Vengoechea, representing Laurie, said: "Mr Laurie has expressed his sympathies to the family in particular.
"It's his view that nobody should lose a loved one."
She added: "He regrets very deeply how he'd taken the call on August 31 2015 and gone drinking with his then close friend Mr Gibb."
Lord Burns sentenced the pair to life imprisonment, with a minimum term of 18 years – the same period of time imposed after their last trial.
Their sentences were backdated to September 18 2015 when they were first remanded.
They were also handed five years each for attempting to defeat the ends of justice, and will serve it alongside their life terms.
Lord Burns told the men: "You have been convicted of a brutal murder of a vulnerable and drunken man in his own house.
"The only sentence I can pass is one of life in prison."
Following the sentencing, Police Scotland welcomed the pair's conviction.
Detective Inspector Gary Winter of the major investigation team said: "I welcome today's conviction of Gibb and Laurie – two men who have never shown any remorse for their brutal actions that night.
"Fuelled by alcohol they kicked, beat and stamped on James, inflicting fatal injuries.
"This outcome in court today cannot change the past. However, I hope it gives his family some comfort in knowing the men who killed him will be behind bars. Our thoughts are with them today."
Donna Thornton, a barmaid at the Market Arms where Mr Chadwick used to drink regularly, said it was "brilliant" to see those responsible for his death brought to justice.
She added: "He was just a nice guy, totally lovely, never a problem with him.
"He was just down to earth and didn't bother anybody.
"It was shocking, absolutely shocking.
"He didn't deserve anything like that."
---
Timeline from murder to justice
August 29 2015
James Chadwick is last seen alive, and recorded on CCTV buying cider from a corner shop
August 31/September 1 2015
Mr Chadwick is attacked by Gibb and Laurie
September 9 2015
Mr Chadwick's body is found in his flat at 26e Holland Street, Aberdeen, by police
September 12 2015
Police launch murder investigation
September 17 2018
Ryan Gibb and Cameron Laurie are charged over Mr Chadwick's death
September 18 2015
Gibb and Laurie appear in court for the first time facing a murder charge
July 14 2016
Gibb and Laurie are found guilty of murdering Mr Chadwick and handed a minimum of 18 years each
December 5 2016
Laurie launches an appeal against his conviction
June 22 2017
Gibb follows suit and appeals his conviction
November 8 2017
Appeal is allowed and the previous conviction is quashed
June 18 2018
Gibb and Laurie go on trial for the second time accused of Mr Chadwick's murder
July 5 2018
Gibb and Laurie are again both found guilty of murder and handed life sentences with a minimum of 18 years