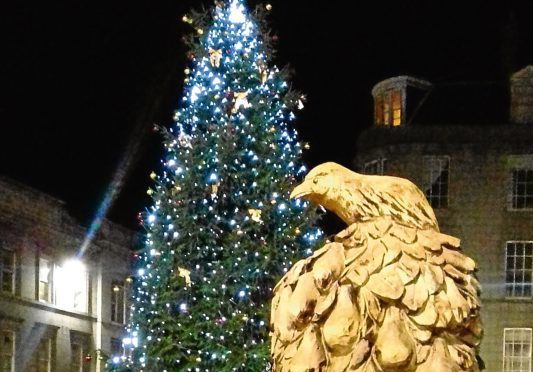 On the first day of Christmas, the council gave to us – festive wooden sculptures.
Twelve unique chainsaw-carved totem pole pieces of art were once again placed around the city centre today as part of Christmas in Aberdeen.
Created by local chainsaw carver Garry Shand, the pieces represent the famous Christmas carol the Twelve Days of Christmas.
First launched for Christmas 2016, the trail is a popular challenge for families and friends who try to spot as many as they can during their visits.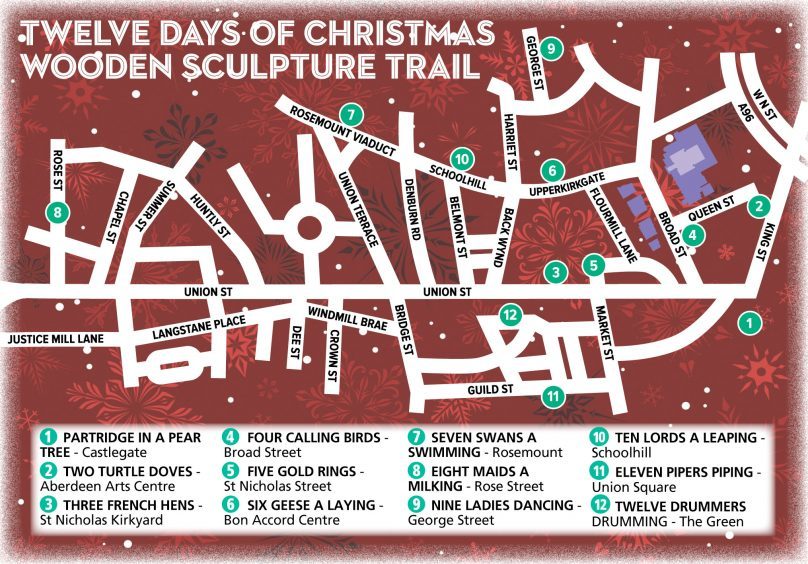 Aberdeen City Council culture spokeswoman Marie Boulton said: "The Twelve Days of Christmas Sculpture Trail is an exciting addition to the festive events line-up.
"The carvings are a wonderful tribute to the famous carol that brings festive cheer across the city.
"Throughout the year we see Aberdeen landmarks brought to life during our lively and distinctive events programme, and the Twelve Days of Christmas Sculpture Trail is a wonderful addition that activates city centre spaces by taking visitors on a tour of Aberdeen, and it encourages them to stay longer in each area, helping to boost the local economy".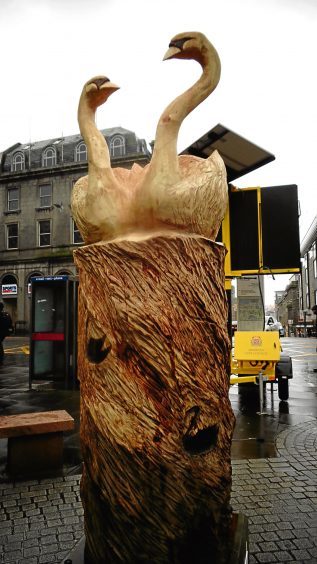 Garry, who is based in Moray, said: "It is great to see the Twelve Days of Christmas Trail once again this year.
"It's a privilege to have created something that has become a highlight on the festive events calendar.
"I hope that the people of Aberdeen and visitors to the city enjoy the trail."
The craftsman lost £20,000 of stock and equipment when a fire tore through his workshop on the outskirts of Keith, back in May. Garry described seeing flames shooting 40ft into the air as the business he had built up over a decade went up in smoke.
Speaking immediately after the blaze, he said he saw himself as "lucky", because firefighters prevented the flames reaching the home he shares with wife, Heather, and their 10-year-old son Bobby James.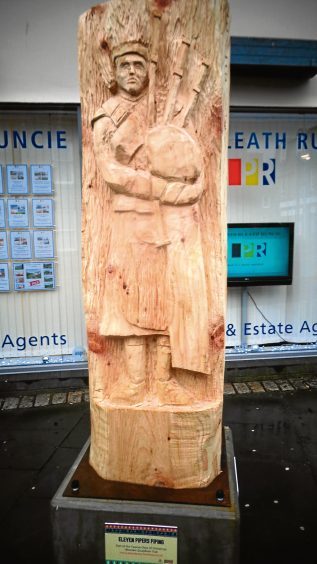 But he remained determined to fulfil orders – even when that has meant working from a tent.
And supporters rallied around in his hour of need, pledging almost £4,000 to an online crowdfunding page which was set up in the aftermath of the blaze.
Garry reflected on a tumultuous few months.
He said: "I still had a lot of orders to fulfil at the time of the fire, but I've been getting back on my feet and people have been very supportive.
"A few days after it, a box of saws arrived, and I got carving again.
"I power-washed my charred logs to get rid of the burned bits, and have used what remained.
"I have had to go back to basics, working from a tent, and I am slowly but surely accumulating replacements for the equipment I lost in the fire."
He added: "It is a nice thought that the sculptures are now part of the Christmas landscape in Aberdeen.
"It is cool to be part of something like that, something that is lasting and could become a tradition."
The 6ft 5in carvings, which weigh two tonnes apiece, first went on display last Christmas.
At that time, they were placed in a staggered fashion, but this year they were all unveiled at once.
While the trail is in place, visitors will be entertained by local schools, the Salvation Army and community groups with a programme of festive music and live performances.
These will run throughout December with the first one due tomorrow on St Nicholas Street from 10am to 11.30am and the last taking place on December 23, again at St Nicholas Street at the same time.
The sculpture trail runs from today until Christmas Eve, and visitors are encouraged to share their pictures from the trail using the hashtag #aberdeenchristmas17
A line-up of other events set to go ahead in the city centre including, on Monday, the Nativity Scene unveiling at St Nicholas Kirkyard, which is open daily until January 5.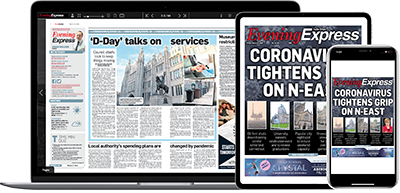 Help support quality local journalism … become a digital subscriber to the Evening Express
For as little as £5.99 a month you can access all of our content, including Premium articles.
Subscribe