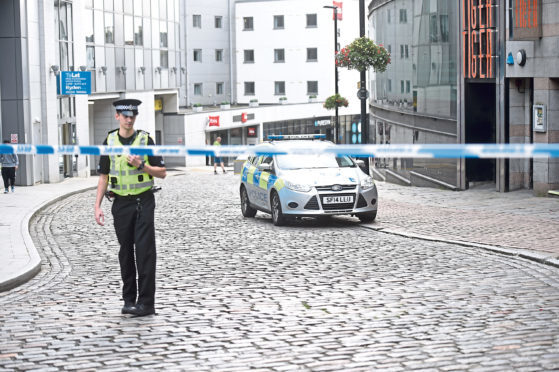 A man has denied to a jury that he stabbed his best friend accidentally.
Kieran Reid dismissed the suggestion while giving evidence in the trial of Anthony Higgins at the High Court in Aberdeen.
Lawyers representing Higgins yesterday put it to Mr Reid that he had intended to stab Higgins but "missed" in the "confusion" and stabbed Darren Beattie, known as Carr, instead.
Mr Carr has given evidence claiming it was Higgins who stabbed him.
Higgins, 34, faces a number of charges including assaulting Mr Carr in the Shiprow car park on September 12 2017, repeatedly striking him on the body with a knife to his severe injury, permanent disfigurement and danger of life and attempting to murder him.
Higgins, of Worsley Crescent, Liverpool, denies all charges and has lodged special defences of self-defence and incrimination.
---
---
Matt Jackson, representing Higgins, took witness Mr Reid, Mr Carr's best friend, through a statement he made to police after the incident.
He said: "What you're saying is that Iggo (Higgins) stabbed Darren once, then you got hold of him, pulled him down, he then got back up and punched you with his right hand and he then went towards Darren again and stabbed him four times in the back. Is that right?"
Mr Reid said it was not and Mr Jackson said: "But that's what you told the police."
The witness replied: "The stabbing happened and when he tried to run away I grabbed hold of him."
Mr Jackson said: "So when you spoke to the police an hour after it happened you got confused and got it wrong?"
He replied: "Possibly."
Mr Jackson said: "You had a knife with you in the car park that day and when your best friend had Anthony Higgins against the car, you were trying to stab Anthony Higgins, and in the confusion, in the struggle, you missed and you stabbed your friend."
He replied: "Definitely not."
Mr Jackson said: "You're lying to save your skin."
The witness replied: "No."
Advocate depute Eric Robertson also asked Mr Reid about what happened in the car park.
Mr Reid told the court he saw Higgins holding a knife, adding: "I think it was just a little flick knife."
Mr Robertson asked the witness what happened next and he said: "It looked like he was punching and he'd let Darren go, and then he tried to run away and I tried to grab hold of him."
Evidence was also given by Dionne Walker, a friend of Higgins and his girlfriend, who had all been with him on the day.
She told Mr Robertson she heard Mr Carr say "he was going to blow up Anthony's house" earlier that day.
The trial continues.