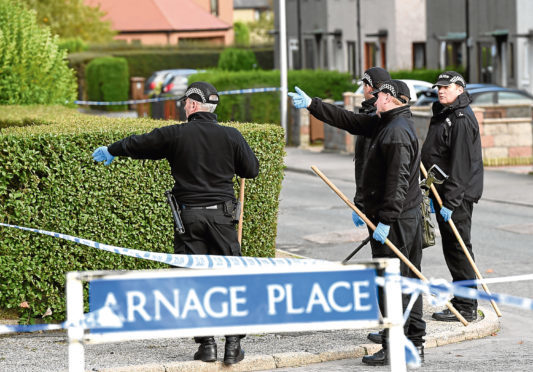 A murder accused told security staff he was "pure gutted" his "best friend" was dead, a court has heard.
The comments were made at the High Court in Aberdeen during the trial of Darren Barnes, known as Riley.
Riley, 29, is accused of murdering Robert Reid at the young dad's home on Arnage Place on October 26, 2016.
Riley denies murdering him, claiming self defence.
On the fifth day of the trial evidence was given by Michael Gordon, a prison custody officer at the time who had been part of a team transporting Riley from Aberdeen Sheriff Court to Perth.
Making reference to a statement Mr Gordon had given police about a conversation between him and Riley, advocate depute James Keegan QC said: "Did he say to you 'I'm not a psycho, and you would have to have something wrong with you to do something like that'?"
Mr Gordon confirmed he did, and Mr Keegan said: "Does it go on to say that he said he was pure gutted that Robert was dead and that he had been his friend for 14 years?"
He replied: "Yes."
Mr Keegan continued: "Does it go on to say he said they had been drinking and stuff and when it happened his main thought was just to get out of the house?"
The witness confirmed it did.
Quoting the statement Mr Gordon gave to police, Mr Keegan added: "He volunteered that he thought it was a nightmare and he just wanted to wake up."
Riley's defence QC Ian Duguid said: "It seems that the police came to you to find out what happened when, generally speaking, the police could not have found out themselves because if the police had been transporting him they would have told him he was under caution and doesn't have to continue speaking."
Evidence was also given by forensic scientist Joanna Tolmie who said blood found on the handle and blade of a knife discovered outside an address on Willowpark Place was highly likely to have been from both Mr Reid and Riley.
She said the findings could be explained "if the knife had struck both the deceased and Darren Barnes".
The trial continues.