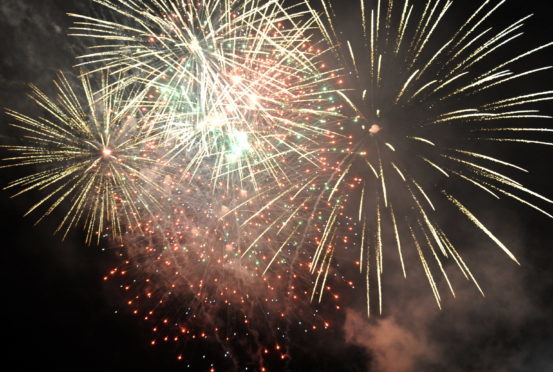 Organisers of a north-east Bonfire Night fireworks display have said they will not be able to hold the event this year.
Inverurie Round Table hosts the bonfire and fireworks display every year at Thainstone, but says it cannot afford to pay for traffic to be stopped on the A96.
New legislation means the group would need to apply for a temporary traffic regulation order at a cost of around £400.
The road needs to be closed in order to allow the safe passage of traffic and pedestrians at the site.
A spokesman for Inverurie Round Table said: "It is with regret that Inverurie and District Round Table have taken the decision to withdraw from holding the annual bonfire and fireworks at Thainstone.
"We have worked with a number of agencies – including Aberdeenshire Council, Police Scotland and Bear – to try and find a solution to managing traffic and pedestrian interaction on the A96.
"Bear have confirmed that, as the agent for Traffic Scotland, they cannot grant a traffic restriction order to stop the traffic on the A96 for the event.
"Police Scotland have clarified that, in the absence of such an order, they can only stop traffic on the A96 in an emergency."
He said they have investigated alternative locations in a bid to find a site which meets all the requirements for crowd safety and traffic management.
However, for a variety of reasons, these have proved to be unviable.
Local sergeant Debbie Davidson said: "Police have worked closely with a number of partners including the Inverurie and District Round Table, Aberdeenshire Council and Bear to manage the issue of pedestrian safety during a large event near the A96."
A spokeswoman for Bear Scotland said: "Safety concerns have been raised due to the volume of pedestrians expected to be crossing the trunk road during this particular event.
"We will continue to liaise with all parties to establish if appropriate measures may be put in place to safely facilitate the event at this location," she added.
The Round Table has also said that it is unable to afford the cost of traffic management at the Thainstone location.
The spokesman said: "The costs of putting on such an event at a location such as Thainstone have become unsustainable – even with support from Thainstone Mart.
"The current legislation requires for the organiser to apply for a temporary traffic regulation order from the local authority.
"In the absence of such an order police can only stop traffic in the event of an emergency."
Inverurie Round Table has now pledged to support anyone looking to take over the running of the event.
For more information contact InverurieRT@hotmail.co.uk