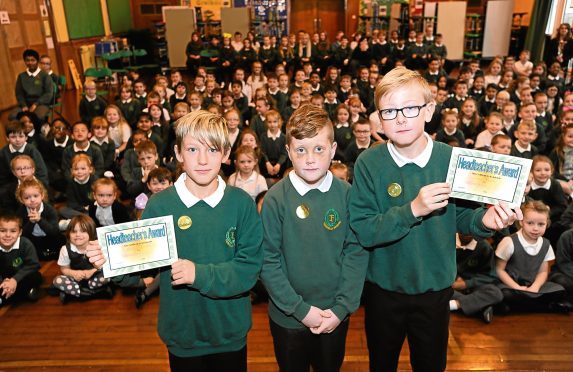 Two quick-thinking schoolboys have been praised for helping to save their friend after he was knocked unconscious while riding his scooter.
Tyler Hood, 10, was playing at Tesco Woodend in Aberdeen when a trick went wrong and he was knocked out.
But Jac Banks, 11, instantly rushed to his friend's aid and moved Tyler into the recovery position to clear his airway as blood poured from his mouth and nose.
Fellow Fernielea School primary seven pupil Bradley Chalmers, 11, kept talking to Tyler while he lay on a bench outside the supermarket.
Now the pair have been given a special award for their actions by their school's acting head teacher Lisa Walker.
Ms Walker said: "Jac said when he realised that Tyler was unconscious and bleeding from his mouth and nose, he went into automatic mode and knew he had to do something."
During a special assembly to present the Head Teacher's Award yesterday, Ms Walker told the school: "Jac was very quick thinking and he thought about how he could help Tyler.
"When the ambulance crew came they said the actions of Jac were really good and probably saved Tyler's life.
"He was cool and he was calm."
Tyler, who was taken by ambulance to Aberdeen Royal Infirmary, suffered bruising and had to receive dental work after knocking one of his teeth into his gum and chipping another.
The 10-year-old, who has been recovering at home since the accident, said: "I feel lucky I have such nice friends looking out for me."
Speaking at the school after picking up his award, Jac said: "We were playing a game of Scoot and he fell down. I was just shocked but I knew what to do.
"We called the ambulance and I put him on his side.
"Then we told a lady to go and get help."
Tyler's mum Amanda Flett, 34, said her eldest son Jayden, 14, had phoned her to let her know Tyler had been involved in an accident.
The mum-of-three, who is from Woodend, said: "I couldn't believe the amount of blood, I didn't know if he was going to be okay.
"I'm just so glad they had had the first aid training in school previously and they knew what to do.
"The ambulance crew said he was really lucky that someone was there to do the first aid.
"They got help really quickly and I'm so proud of them," she said.
"He got a big scare."
Bradley, 11, also helped by keeping Tyler's baby sister occupied at the scene outside Tesco, while Amanda came to her son's aid.
He said: "I came and saw him on the ground. I kept asking him questions and trying to keep him awake," he said.
Bradley's mum, Alexis Flett, 31, said: "I'm really proud and overwhelmed – and he was as well.
"He was really emotional about it on the night that it happened and he was really shocked."
Fernielea School teaches first aid skills to pupils in primaries five to seven.
Ms Walker added that she was "very proud" of Jac's lifesaving skills.
She said: "He just remembered what he has learned at school and put it into practice. It's such an important life skill and something we need to continue," she said.
"It has clearly made a difference to one pupil's life."
Jac's mum, Kirsty Banks, who attended the assembly to see her son pick up the Head Teacher's Award, said she was "super proud" of him.
A Scottish Ambulance Service spokeswoman also praised the youngsters for their actions.
She said: "This was a fantastic effort from all those involved in helping their friend after he took a fall from his scooter.
"Initial first aid when an incident happens can make a real difference for patients and we credit the children for remembering their first aid training and for following the instructions of our trained call handlers until our clinicians arrived.
"This incident demonstrates why bystander first aid is a vital part of patient treatment, and we praise the first aiders for the role they played."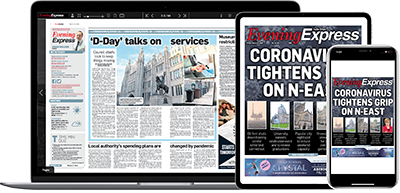 Help support quality local journalism … become a digital subscriber to the Evening Express
For as little as £5.99 a month you can access all of our content, including Premium articles.
Subscribe