Three teenage girls have been charged after a fire at a North-east primary school.
No one was injured in the incident, however the blaze at St Andrews Primary School in Fraserburgh caused extensive damage.
Police said the art unit at the school, on the town's Charlotte Street, and all the equipment in the building was "damaged beyond repair" as a result of the fire, which started just after 5pm yesterday.
Today, community leaders expressed disappointment over the blaze and raised concerns over pupils' education.
Around 12 firefighters were on the scene battling the fire.
Pictures taken by the Evening Express shows the building at the back of the school was extensively damaged.
Three girls, two aged 14 and one 13, have been charged and a report will be sent to the Youth Justice Management Unit.
Sergeant Graeme Cupples thanked people who contacted the Scottish Fire and Rescue Service, saying their prompt actions prevented more damage to the school.
Police said Charlotte Street was closed at its junction with Commerce Street while firefighters dealt with the incident. A Scottish Fire and Rescue Service (SFRS) spokesman said: "We got the call at 5.05pm and we sent two appliances from Fraserburgh.
"Bins outside the school had caught fire, which were close to the building."
Crews took just over 45 minutes to bring the blaze under control.
The spokesman from SFRS added: "Our last appliance left the scene at 6.30pm on Sunday and we had a total of 12 crew members at this incident."
One thermal camera and two breathing apparatuses were used, and the roads were reopened at 6pm.
Councillor Andy Kille, who represents Fraserburgh and district, said: "This is very disappointing news.
"I'm concerned that children's course work has also suffered as well as the educational facility."
Cllr Brian Topping, who also represents the area, said: "It is very sad indeed. The damage I imagine will run into the tens of thousands of pounds and will affect pupils' education."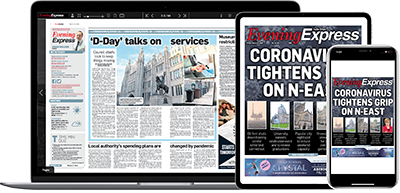 Help support quality local journalism … become a digital subscriber to the Evening Express
For as little as £5.99 a month you can access all of our content, including Premium articles.
Subscribe