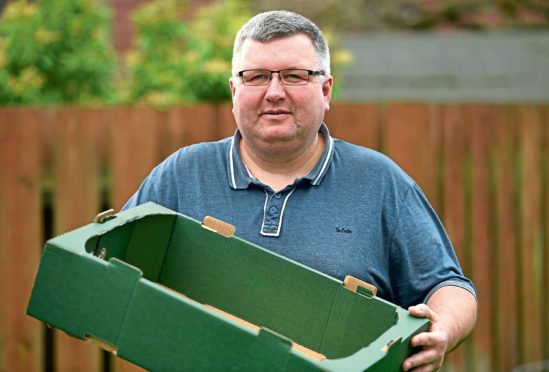 An Aberdeen man hopes to encourage recycling and upcycling with a green venture for businesses and community groups.
Andy Brown, who lives in Summerhill, has started up Green Box, which aims to connect businesses or individuals who have waste items that they would like to get rid of.
The initiative would put them in contact with community groups or other organisations that could give the donations a new home.
Goods which could be put into boxes could include paper, textiles, cardboard, carpet, wood, beads, curtains and clothing – anything which can be put to good use by someone else.
Once the box is filled, it would be posted with a list of items on the Green Box page, and then any organisation could request it.
Andy hopes it will encourage people to think about the environment, and reduce the amount of waste that goes to landfill, by giving each of the items a second chance at life.
Andy, 45, owner of photography company Abertunity, said: "It's been on the go for about a week now. The idea came from the men's shed in Westhill.
"I was going there and it was part of that, they were looking for materials so they could craft.
"Everyone has something that they could give a second life to."
The idea came after Andy spoke to businesses that were throwing away materials that could be used by other groups.
Andy added: "After that, I was thinking about it just going to landfill. It's about reusing materials like cardboard boxes.
"There's always someone who has a business that could use cardboard boxes, or if someone wanted to make theatres or dollhouses."
To take part in the scheme, all that is needed is for people to list what is in the box, where the box is located, and how long it will be kept for.
Anything can be put in as long as the box can hold it and it can be used to make things.
Anyone who is interested in providing materials as a business, or any schools, community groups or other organisations who would find it beneficial to be given a box, should get in contact with Andy on info@abertunity.co.uk
To keep up to date with Green Box as it progresses visit facebook.com/groups/greenboxaberdeen
For more information visit abertunity.co.uk/green-box/