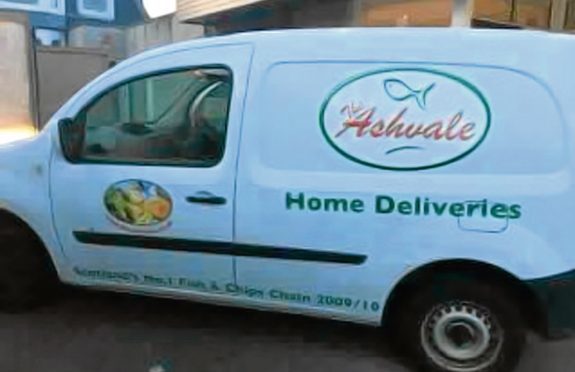 A brazen thief stole an Aberdeen fish and chip shop's delivery van … and two large fish suppers.
A delivery worker for The Ashvale Fish Restaurant, in Great Western Road, was out dropping off orders last night and left the white Renault Kangoo van for a matter of seconds in Cummings Park Drive.
The man returned to the van at 6pm to find it gone – along with a customer's order for two large fish suppers and his own jacket, wallet and mobile phone.
Police today said the van had since been recovered but officers were continuing to investigate the crime.
Stuart Devine, The Ashvale's operations director, said: "I would say it's likely to be someone who was looking for a bit of fun and took it for a ride around.
"Our driver was out delivering orders at tea time.
"He only left it for a few seconds and someone has gone in and drove off in it.
"There were also two fish suppers that the thief has made off with, so he's taken someone else's supper for the night.
"We managed to get another van out to make sure those suppers were delivered though."
Mr Devine, who was speaking before the van was recovered, added: "The driver was shaken up by what has happened and he's having to cancel all his payment cards and his phone, but I'm just glad there was no violent confrontation involved.
"The van has our livery on the side so I doubt anyone would be able to sell it on.
"I would imagine it was just a young person wanting to drive it around for a while."
A Police Scotland spokeswoman said: "Officers are investigating the theft of a white Renault Kangoo van from the Cummings Park Drive area of Aberdeen yesterday at around 6pm.
"The vehicle has since been recovered and enquiries are ongoing.
"Anyone with information is asked to contact Police on 101 or Crimestoppers on 0800 555111 if you would prefer to remain anonymous."