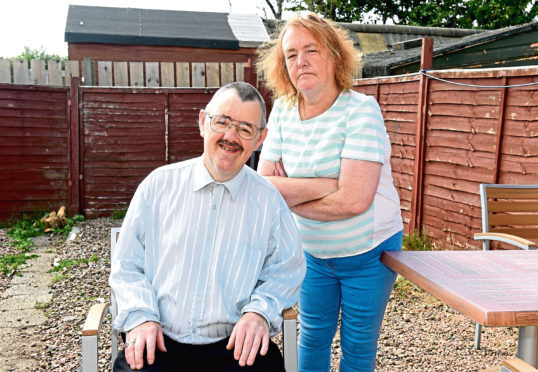 A callous thief targeted a man with learning difficulties and stole £200 from him as he boarded a bus in the city.
John Morrison, who has a mental age of four, has told loved ones the harrowing experience has left him scared to go out in case he is the victim of another theft.
Police said they are investigating the theft and bus provider First Aberdeen said it is assisting officers with their inquiries.
John's sister Liz Hendrie said: "It was such a shocking thing to happen. John wouldn't hurt a fly and has been targeted by this man. We are really counting on the police catch him."
John, 51, attends a day centre in Mastrick, where he gets support for his learning disabilities, which he has had since birth.
On the day of the theft, John and Liz left the centre and boarded a number 13 bus at the Mastrick shops heading towards Aberdeen city centre.
Liz, 58, said: "We got on the bus and John took his bus pass out of his wallet and set the wallet down on the side. After he showed the pass to the driver, John said someone behind him had nudged him forward, so he walked forward and we sat down.
"A few seconds later, I asked John where his wallet was and he said he didn't have it and began motioning towards a man.
"I looked at this man and suddenly noticed the wallet was on the floor besides his feet. He had overheard us talking and dropped it on the floor."
Liz said she opened the wallet and noticed £200 John had withdrawn from his bank account was no longer there.
Liz said: "It was so awful. Lots of the passengers saw what happened but when I asked him to give it back, he denied it."
Passengers alerted the bus driver, who pulled over and called the police – at which point the man ran off.
"It's such a shame what's happened," said Liz. "John has carried on going to the centre, but this has really shaken him.
"He's scared to go out in case it happens again and he's a lot more careful about how much money he carries with him."
A Police Scotland spokeswoman said: "The incident has been reported to police and inquiries are ongoing. We are following a positive line of inquiry."
It is understood police are to study CCTV footage from the bus and will also interview passengers about the incident, which happened on June 22.
First Aberdeen operations director David Phillips said: "We can confirm that it was one of our vehicles involved in this unfortunate incident.
"Incidents of this nature are very rare on our services, but our drivers are trained for this kind of scenario and I would like to praise the driver for his handling of the incident.
"He took swift action by stopping the vehicle as soon as he was aware and managed to then quickly alert the police."