A thief used an axe to smash his way through an Aberdeen shop's roof before fleeing with thousands of pounds of booze and cigarettes.
Owner Johny Padayahan today spoke of his shock after the crook shimmied up a drain pipe, ripped off slates and entered the Premier Stores shop on Oldcroft Place, Stockethill, through a small hole.
The thief took £3,000 of goods during the audacious raid between 10pm on Wednesday and 6am yesterday.
Mr Padayahan, who made the discovery at around 4am yesterday, said: "I came in and we saw that the shop was broken into and called the police immediately.
"I was so scared when I came inside – the cigarette shelf was empty and parts of the ceiling were on the floor. They have come through the roof.
"We didn't touch anything.
"The police came about 10 minutes later and then the forensics who came and took fingerprints."
The shop owner said the thief had climbed up a pipe to get on to the shop roof before using an axe to smash their way inside – with the entry and raid captured on the store's CCTV, which has since been passed to detectives.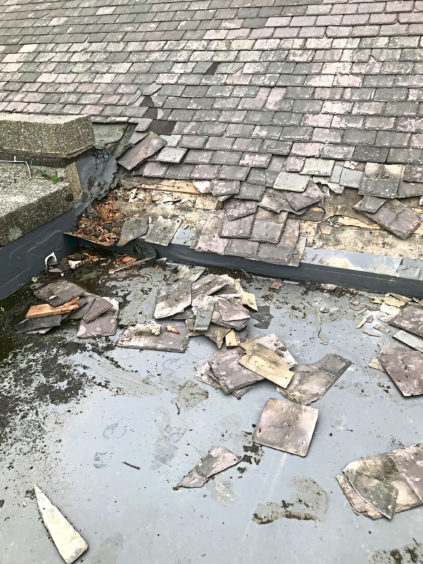 He added: "They were fully covered. There was just one person."
Around £3,000 of alcohol and cigarettes was stolen with damage to the roof expected to cost more than £1,000.
Holes where the culprit gained entry to the building can be seen in the shop's stock room and debris from the roof was found scattered around the shop floor.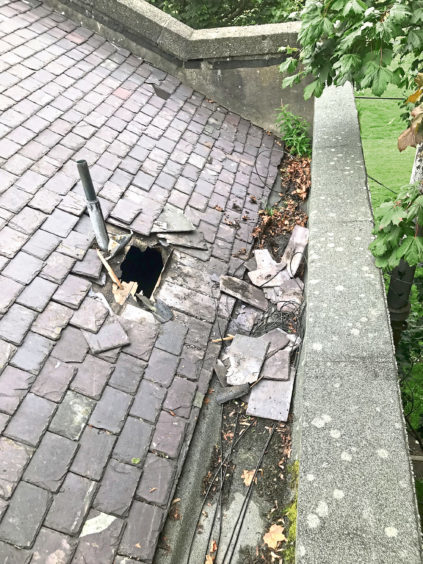 Packets of cigarettes were also littered outside the shop in the wake of the incident.
Mr Padayahan said: "It will cost more than £1,000 to repair the roof.
"Two bits of the roof have been damaged."
The shop owner added that the raid would negatively impact on the store at a time when "business is down" already.
He said: "We have to pay money back to the cash and carry."
Police Scotland has confirmed it is investigating the incident and is appealing for witnesses to come forward.
The shop owner has also urged anyone who may have witnessed the incident to get in touch with the police to pass on details.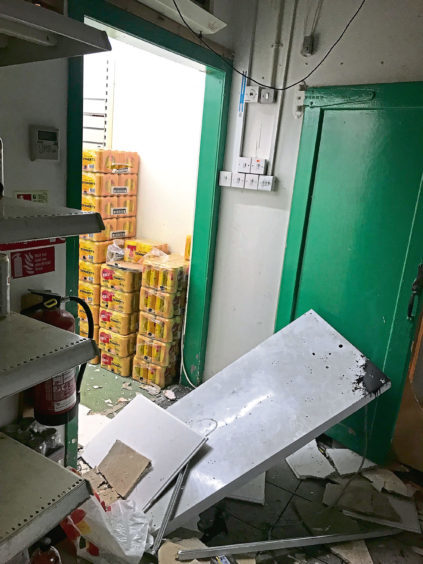 Detective Sergeant Andy Machray said: "We are appealing to anyone who was in the area and may have seen anything unusual or suspicious to contact us.
"A quantity of alcohol and cigarettes has been stolen which will be costly and inconvenient for the store to replace.
"We are carrying out inquiries and would urge anyone who has any information that might assist us to contact police on 101, quoting reference number CF0206460818, or Crimestoppers on 0800 555 111 to remain anonymous."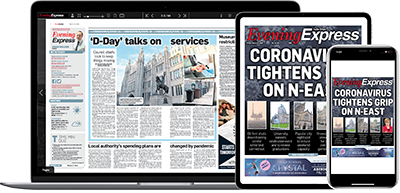 Help support quality local journalism … become a digital subscriber to the Evening Express
For as little as £5.99 a month you can access all of our content, including Premium articles.
Subscribe