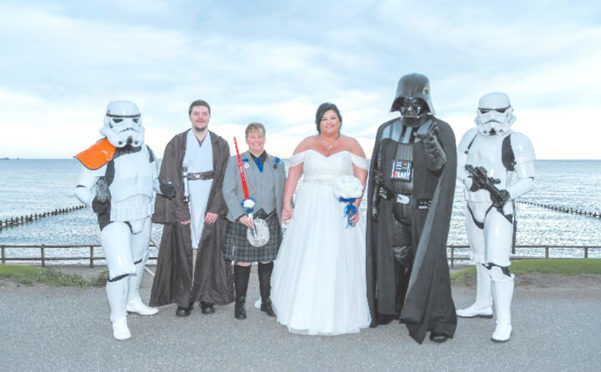 An Aberdeen couple felt the force at their wedding ceremony – tying the knot on Star Wars Day with Darth Vader in attendance.
Jo and Debbie Lockhart, from Kittybrewster in Aberdeen, held their nuptials at the city's Beach Ballroom.
The two film fanatics, who have been together for four years after meeting online, wowed guests with Storm Troopers, lightsabers and even Darth Vader himself.
What originally started as a joke between the pair around the date of their wedding, quickly turned into a reality when the venue was free on May 4.
Jo said: "We're both massive Star Wars fans, pretty much geeks.
"Initially when we first talked about getting married, we were talking about getting married in November, but we decided to postpone it a bit because Debbie's daughter got married in October.
"It was weird, because we both said May 4 at the same time and when we looked, it was available. We both just looked at each other, sniggered and said 'it's going to be a Star Wars wedding' and it just grew from there."
The immaculately planned ceremony took just 11 months to pull together, with the pair spending most of their nights finalising small details to make the day perfect.
Jo, originally from Ayrshire, said: "We had set up the room beforehand and everything was a nod to Star Wars.
"We had bobble head dolls as the centre pieces with characters like Darth Maul and R2-D2, a Millennium Falcon as our guestbook and some big cutouts of characters."
The wedding party was walked down the aisle by a Storm Trooper, the faithful servants of villain Darth Vader and a Jedi knight.
The 46-year-old herself was walked down the aisle by her son, behind Vader and to the sounds of the Imperial March – which plays at key moments in the franchise when the Sith lord takes to the screen.
On her walk down the aisle, Debbie, 45, wore a hooded cloak. Jo said: "Debbie had a hood over her head and a cloak on, to hide who was walking in.
"None of her friends knew what she would wear. They all thought that she would wear a dress, but she didn't – she actually wore a kilt."
On the day, the characters were portrayed by cosplayers Debbie and Jo had found through the Grampian Comic Con after an appeal on Facebook.
The pair were married in a "handfasting" ceremony, historically used in 16th and 17th Century Scotland, where they wrote their own vows, complete with nods to the sci-fi classic and the traditional pagan jumping of the broom.
The pair left the ceremony, preceded by Vader and his minions, under a lightsaber arch created by their close friends and family.
Jo said: "It was exactly the way that we wanted it, we had an amazing day."
Both Debbie and Jo wanted their ceremony to be special to them.
Jo said: "We knew that because we were older brides, because we were a same sex couple, we didn't want it to be something traditional, we wanted it to be fun and different and about our personalities."
According to Jo, she "just knew" that she wanted to marry Debbie and the two were engaged within six months, with Debbie proposing on New Year's Eve 2015.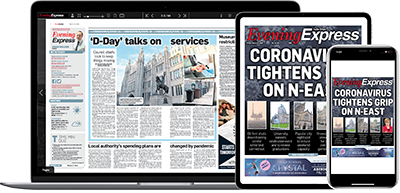 Help support quality local journalism … become a digital subscriber to the Evening Express
For as little as £5.99 a month you can access all of our content, including Premium articles.
Subscribe