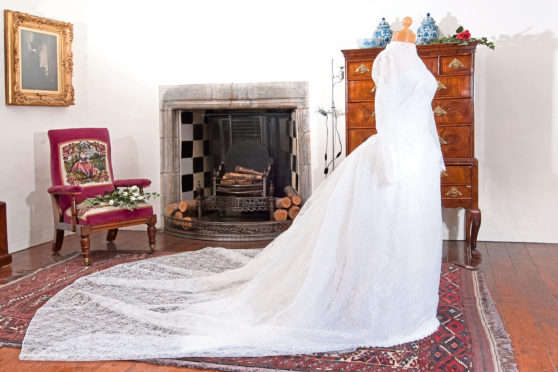 April showers have given way to May flowers (with the odd flurry of snow for good measure!) and in any other year we'd be entering peak wedding season.
Curator Jenna and collections volunteer Ainize have been working with our wonderful collection of wedding dresses, doing everything from measuring long flowing bridal trains to reuniting dresses with their accessories for reference photos, and writing text for our website. Today they're looking at wedding dresses influenced by members of the British royal family.
Lady Elizabeth Bowes-Lyon, later Queen Elizabeth, The Queen Mother, married the future King George VI in April 1923. Her medieval-inspired loose-fitting ivory chiffon bridal gown was hugely anticipated leading up to the big day.
Cream silk wedding dress and box, 1923
Worn for a wedding in Peterculter in June 1923, this has a similar hemline to the gown worn by the then Lady Elizabeth. It features the same deep neckline, a loose-fitting bodice and a drop waist. The decoration on this dress is simpler by comparison, with its delicate row of pearls on the sleeves and orange blossom at the waist.
Pink silk wedding dress and belt, 1930
This soft pink, figure hugging, full-length dress from the 1930s incorporates many of the features seen in Wallis Simpson's bridal wear. They share a fluid, streamlined cut, high neck, gathered bodice and deep waistband. At the time of her wedding to the abdicated King Edward VIII in 1937, Wallis was probably one of the most well-known and fashionable ladies of the day, always immaculately dressed, with a hint of Hollywood glamour.
Ivory wedding dress and sash, 1940
This ivory wedding dress made of rayon brocade, a fabric used extensively in the 1940s during the frugal war years. The dress has a sweetheart neckline, long pointed sleeves and a full skirt that is tucked at the waist. A little glamour can be seen in the sequin and bead decoration on the bodice. These features are like those found on the wedding dress of Princess Elizabeth, the future Queen Elizabeth II. In keeping with 1940s fashion, her dress had a tailored bodice, high neckline and long sleeves. At the time of Princess Elizabeth's wedding, clothes were still rationed. Material had to be purchased with ration coupons, generously donated to the princess by brides-to-be across the country.
White wedding dress, 1963
The fourth dress was worn by a bride to her wedding at Greyfriars Church in Aberdeen in October 1963. The cut and style were based on the wedding dress worn by Princess Alexandra, who married in April 1963 and wore a lace wedding gown with matching veil and train.
All this week Jenna and Ainize are sharing highlights from our stunning collection of wedding dresses on our Facebook page – find us at @AbdnArtMuseums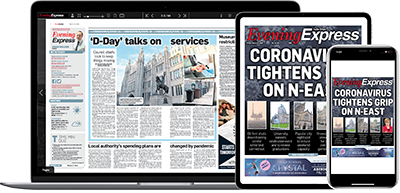 Help support quality local journalism … become a digital subscriber to the Evening Express
For as little as £5.99 a month you can access all of our content, including Premium articles.
Subscribe