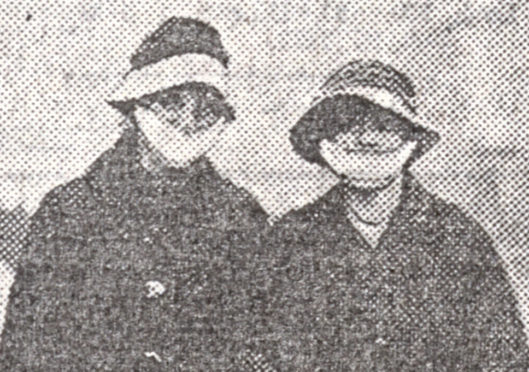 This year marks the 100th anniversary of the Spanish flu pandemic, which infected 500 million people across the world and killed 250,000 in the UK.
An exhibition at the Central Library – put together by the Florence Nightingale Museum in London and nominated for a Museums + Heritage Award – explores the impact of the epidemic, with additional displays from Aberdeen City and Aberdeenshire Archives and Aberdeen City Libraries focusing on the Granite City's experience of this deadly strain of the influenza virus.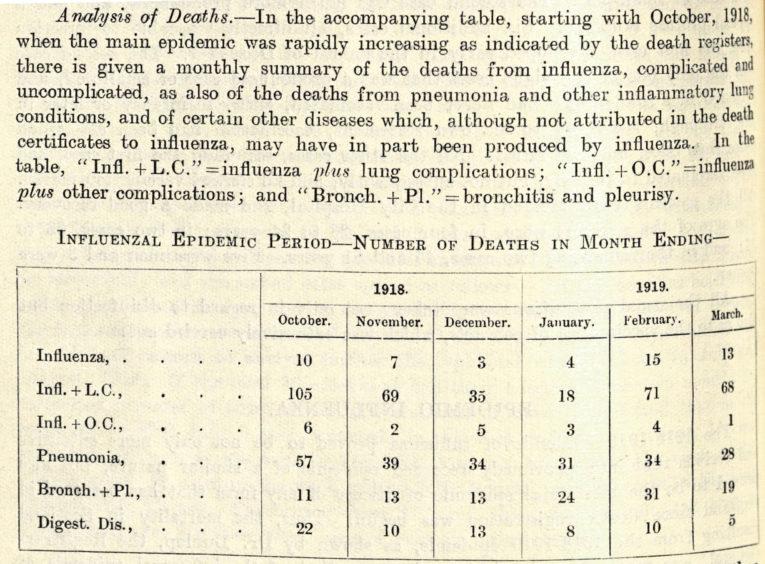 Patients with Spanish flu suffered high fevers that could cause hallucinations. In a letter now in the Imperial War Museum's collections, a pupil at Aberdeen's Central School recalls how, at the height of her delirium, she thought that she saw her brother, a Gordon Highlander killed during the First World War, at the foot of her bed.
The virus also caused victims to turn blue due to a lack of oxygen.
Cases peaked in three waves: June-July 1918, October-November 1918 and February-April 1919. School log books in the city's archive collections show increased absences of staff and students during the second and third waves – 300 pupils were absent from Walker Road School in Torry in October 1918.
Faced with mass absences and concerned that attendance at school would only serve to further spread the disease, the school board closed all of the city's schools for four weeks in October 1918, and again for three weeks in February 1919.
Newspapers reported that the supply of fish was affected by the illness of crews, and cinemas and other public spaces were closed.
Newspapers also carried adverts for products that claimed to help protect against the virus, including Bovril.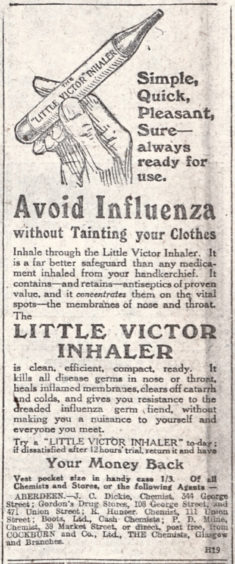 The press also reported fatalities from the disease, including a father, mother and son who died on consecutive days between February 25 and 27 1919.
Their deaths were described by the Aberdeen Weekly Journal as "another sad case of triple mortality" and their joint burial is recorded in the archive's registers for Nigg Cemetery.
Ultimately, the death toll in Aberdeen as a result of Spanish flu was at least 460.
Spanish Flu: Nursing During History's Most Deadly Pandemic exhibition continues at the Central Library, Rosemount Viaduct, until Friday May 3. Admission is free. For opening hours, visit www.aberdeencity.gov.uk
The collections of Aberdeen City and Aberdeenshire Archives contain a wealth of documents and records dating from the 12th Century to the present day, including burial, school and church records. For more information, and to find out how to visit the Town House and Old Aberdeen public search rooms, visit www.aberdeencity.gov.uk/archives.
Coming Up
Join us at Aberdeen Maritime Museum to explore the Silver City's stories through our collections of art, social and maritime history.
These informal dementia-friendly session for adults will take place on Mondays at 2pm–3.30pm from May 27 to July 1. Free – donations welcome. No need to book, just come along. Find out more at www.aagm.co.uk or pick up a leaflet at one our venues.
Aberdeen Art Gallery & Museums:
Aberdeen Art Gallery (reopening autumn 2019)
Aberdeen Maritime Museum (open 7 days, admission free)
The Tolbooth Museum (open 7 days, admission free)
Aberdeen Treasure Hub Museum Centre
For visiting information go to www.aagm.co.uk
Keep up to date with all the latest news from Aberdeen Art Gallery & Museums by signing up to our e-newsletter at www.aagm.co.uk/mailinglist
Follow us on Facebook, Twitter and Instagram @AbdnArtMuseums