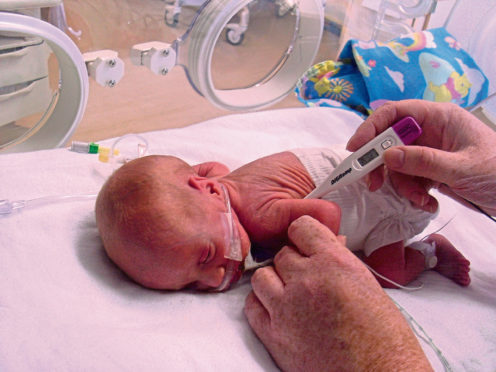 Evan Christie looks like any other boy his age.
Yet when Evan was born 13 weeks premature and weighing just 1lb 10oz, he was so small his tiny hand fitted the nail of his mum Jill's little finger.
Now, as Evan's landmark 10th birthday approaches, the kind-hearted lad who attends Broomhill Primary School has taken it upon himself to raise £10,000 for the new neonatal unit in Aberdeen… and he is getting by just fine with a little helping hand from his family and friends.
Jill, 46, who lives in Mannofield, said: "When Evan turned nine he said he wanted to raise the money to help contribute to the new neonatal unit."
Evan was delivered by caesarean section on December 17 2008 after Jill developed pre-eclampsia at 27 weeks pregnant.
When he was born he had to be taken to Ninewells Hospital's neonatal unit in Dundee as there was no consultant in Aberdeen who could care for a baby of Evan's size.
"We spent three weeks in hospital in Dundee and then nine weeks in Aberdeen's neonatal unit," said Jill.
"At one stage in the beginning, Belfast was mentioned as where we would have to travel to, so suddenly Dundee didn't seem so far away after all."
Measuring just 9in from head to toe, the first three months of Evan's life was spent in an incubator and he had to be fed through a tube in his stomach.
"When he was delivered, he came out screaming and I knew then, deep in my heart, he was going to be alright," said Jill.
Fortunately, Evan thrived in the incubator.
So much so that, to this day, his parents still marvel just how much so.
"He never had any infections and although his progress wasn't too obvious to us to begin with, day by day he went from strength to strength."
When Evan announced his ambitions to raise the money, Jill sat him down to explain the maths.
"He completely got it would be 10 lots of £1,000 and told me, 'Mum, I can do the maths'."
In April, the Christie family set forth on their quest to raise the amount for the new Baird Family Hospital.
Incredibly, six months on, they have already raised £6,000.
"We have had so much support and help from people in our community," said Jill, a beauty therapist.
"It has been incredible as everyone we know has wanted to pitch in to help."
Evan's school football team did a sponsored walk, while Evan's dad Graham, 45, a structural engineer with Cameron + Ross, held a golf tournament with work colleagues.
Evan's grandmother and Jill's mum, Joyce Thomson, who lives in Turriff, held a bingo night, while Jill managed to raise an impressive £1,200 raffling off a Mulberry handbag.
More recently, Evan held a yard sale in his front garden and grandma Joyce is planning the mother of all discos back home in Turriff.
But there is one thing Jill and Graham are certain of, and that is there is no limit to the amount of money they could ever raise that could be enough to say "thank you" for the life of their precious son.
"Every time I look at Evan I am just so grateful," said Jill.
"I hold him close and cherish him.
"Don't get me wrong – he can be trying at times – but Graham and I are just so pleased he has wanted to give back so selflessly.
"We are extremely proud of him."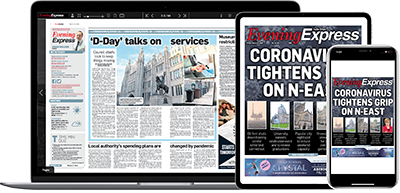 Help support quality local journalism … become a digital subscriber to the Evening Express
For as little as £5.99 a month you can access all of our content, including Premium articles.
Subscribe