An Aberdeen petting zoo has been broken into several times – so teenagers could take selfies with its animals.
Aberdeen City Council reported the incidents, which it described as "minor", to Police Scotland and put additional security measures in place.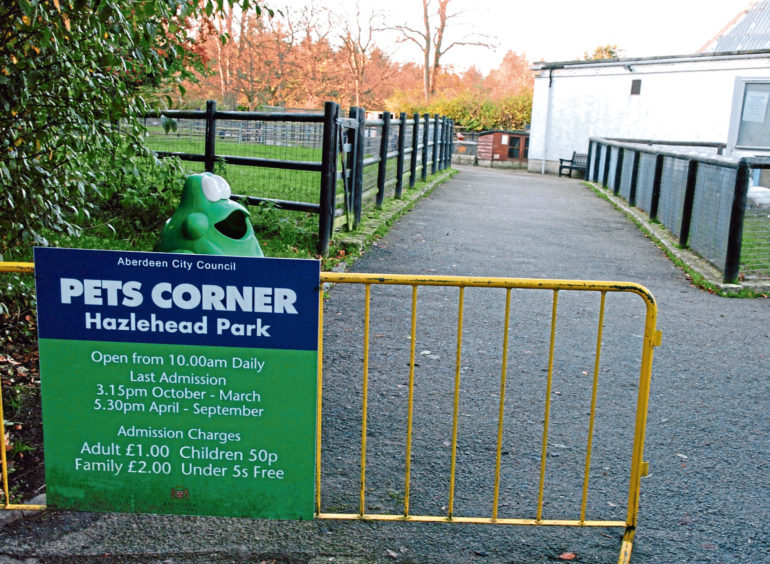 The perpetrators were believed to be from nearby Hazlehead Academy and both the police and the local authority have worked to educate pupils at the school about the effects these incidents may have on the animals.
It is understood a letter was sent home to parents asking if they are aware of where their children are when they're out.
Police Scotland also increased patrols around the area in order to catch those behind the incidents in the act.
Video: Meet alpacas Archie and Buster – they've just arrived at Aberdeen's Pets Corner
Councillor Martin Greig, who represents Hazlehead, Queen's Cross and Countesswells, praised the reaction of both the council and police.
He said: "I am grateful for the robust and positive help from police and council.
"We are fortunate to have local police who are so closely engaged with the community.
"The upgrade to Pets Corner has been a great improvement for Hazlehead Park.
"This venue is a great destination especially for children.
"So many enjoy visiting the pets in this caring and sensitive environment.
"The welfare of the animals is the priority. They need to be looked after and handled in a respectful way.
"The reported incidents are hopefully a one-off phase that will not be repeated again."
It is also thought the council is looking into providing CCTV at Pets Corner as a deterrent for people considering entering the premises after hours.
The councillor added: "CCTV will help to prevent unauthorised entry.
"Pets Corner has to be a safe and stress-free place at all times of day."
---
---
An Aberdeen City Council spokesman said: "We are aware of some minor incidents at Pets Corner during the summer and additional security measures have been put in place."
Craigiebuckler and Seafield Community Council secretary William Sell said: "They could cause harm, and I understand that it's probably unintentional, but they should be educated not to go in there.
"I believe that they were feeding the animals, and they of course shouldn't be doing that because they don't know the diets of the animals.
"It was done out of naivety – there wasn't any harm intended and we can't condone it. But it's important that parents know what their children are doing, and they know not to go into Hazlehead Park at night, and especially to Pets Corner, because you're effectively breaking into the premises."
Members of staff were also given advice on the prevention of crime, to ensure break-ins are not possible in the future.
Last week the attraction welcomed two new alpacas – Archie and Buster.
They join other attractions including meerkats Don and Dee, a kune kune pig, pygmy goats Lou Lou and Gethin, and Vadar the albino Burmese python.
Pets Corner at Hazlehead Park is open from 10am to 4.15pm.