A schoolgirl has spoken of her terror after a man stalked her for 15 minutes before trying to pull her into a dark lane.
The incident, which happened in broad daylight, prompted a police manhunt involving sniffer dogs, but they were unable to find the attacker.
Today the 16-year-old said the incident, which happened while she was doing her paper round in Kingswells, had left her "petrified".
The teenager, who asked not to be named, told the Evening Express: "I was just very scared and I'm not the kind of person that gets easily scared.
"My first instinct was to just get away from him, so I moved my shoulder in the opposite direction to where he was pulling me and ran.
"There was a path. I think he was trying to take me down that path. I was petrified."
The girl started her deliveries at 12.30pm on Saturday and by the time she reached Callum Park at 12.40pm was being followed by the man – thought to be in his 50s – who stopped at each house she delivered a paper at. The worried teenager sent a frantic text message to her mother to say she was being stalked.
Her horrified mother replied with "on my way" before rushing to find her.
Moments later, the man approached the girl, near the path, grabbing her by a shoulder on Corse Avenue and Kingswood Drive at around 12.55pm forcing her to pull away.
The teenager added: "I ran about 30 seconds and saw my mum.
"She didn't see the man who grabbed me because he had run off by that point.
"He didn't seem like he was trying to hide that he was following me."
Her mother said: "It's shocking that this could happen in broad daylight.
"She is a brave girl and she has said that she won't be stopping her paper round due to this."
Police were called to the scene and carried out house-to-house inquiries.
Detectives took DNA samples and dispatched dog handlers to search areas including Concraig, the Wellside and Bucksburn Valley paths.
Detective Sergeant Jamie Sherlock asked witnesses to call 101 and added: "We particularly want to trace this man who is described as being in his 50s, of a very slim build, who was wearing a black baseball cap, dark framed glasses, a striped shirt with blue jeans."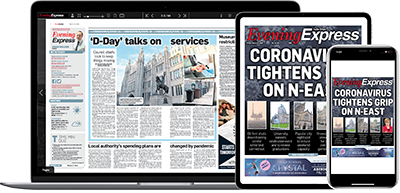 Help support quality local journalism … become a digital subscriber to the Evening Express
For as little as £5.99 a month you can access all of our content, including Premium articles.
Subscribe