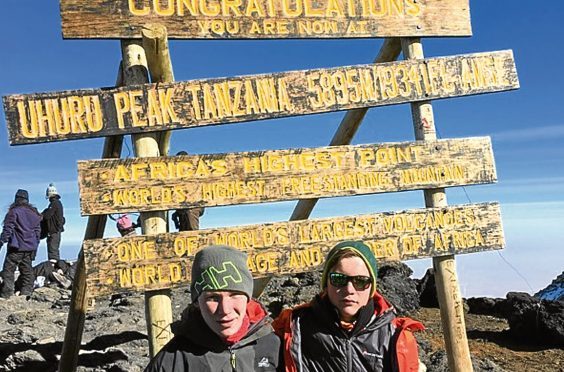 Two teenage brothers have scaled Mount Kilimanjaro to raise cash for a charity in memory of a tragic kayaker who went missing at sea.
Following his death in February, the family of Dominic Jackson, 35, set up PLanB to promote safety planning for outdoor adventures and the use of personal locator beacons (PLBs).
Brothers Harvey Dick-Reid, 17, and Archie Dick-Reid, 14, knew Mr Jackson through his work at their home at Fasque Castle estate in Fettercairn, and they were keen to raise money for PLanB.
Mr Jackson was reported missing on Sunday, February 5, after he failed to return from a kayaking trip off Portsoy.
Four days later, his body was found in water near Lybster, about 50 miles from Portsoy, in the Highlands.
Mr Jackson was originally from Uckfield, near Brighton, but had lived in Aberdeenshire for around 13 years, running a gardening business in the Laurencekirk area.
Brothers Harvey and Archie have so far raised more than £1,200 by climbing Africa's highest peak on a trip with their school, Lathallan.
Their mother Heather Dick-Reid said: "Our children were quite familiar with Dom through his work at the estate. He was always just a really lovely man who we were really fond of."
The boys, who were part of a group of 18 pupils, set off at midnight on July 14 and reached the Tanzanian mountain's 5,895m (19,341ft) summit around nine hours later.
The family of Mr Jackson believe a PLB could have saved his life and have urged more people to consider using them.
A PLB is a small, lightweight and wearable device that, when activated, transmits a powerful signal using radio frequencies and satellite tracking. This enables emergency services to pinpoint a person's location to within a few metres.
Mr Jackson's sister Ellie, who lives in Australia, said: "I want others to learn from Dom and plan their adventure properly; getting the right skills, going with someone or part of a group, carrying the right gear and letting someone know where and when you are going, are all part of having a PlanB."