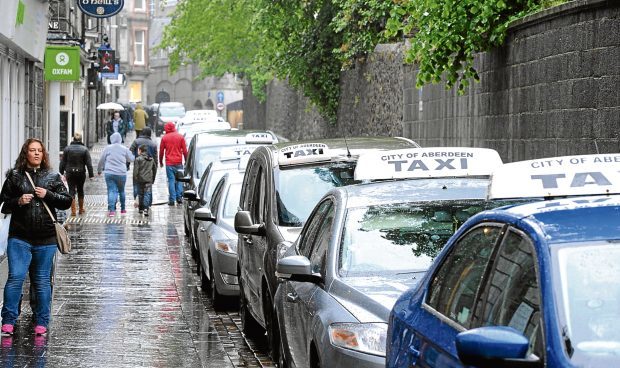 The head of a taxi group in Aberdeen said Uber coming to the city would be bad for the trade.
Graeme McColl, chairman of Aberdeen Taxi group, hit out at the controversial firm's plans after it was revealed in the Evening Express the app-based business was looking to trade in the Granite City as soon as possible.
Uber has applied to Aberdeen City Council for a licence for a taxi office.
The company allows customers to book a taxi using an app.
Mr McColl said: "The trade doesn't want them in Aberdeen and are against them coming in.
"All the drivers I've spoken to are against Uber coming to Aberdeen as it would be bad for the local taxi trade.
"It has done what it has wanted in other cities and I'm not surprised to hear about it getting its licence taken away in London.
"People want taxis in Aberdeen that they know are licensed."
Already available in Edinburgh and Glasgow, the firm has faced criticism of its safety features in the past but its head of cities for UK and Ireland said users in Aberdeen would love the service.
The firm wants to open an office on Berry Street just off Gallowgate.
Uber, a cashless service, is all done via a smartphone app where passengers are provided with information on their driver including make and model of their car and are able to track the taxi via GPS.
The company has vowed to appeal after Transport for London said it will not be issued with a new licence and said it was "not fit and proper" to operate in the country's capital.
The company's head of cities for UK and Ireland, Fred Jones, told the Evening Express last week "drivers will need to be licenced by the local authority and go through a background check with Police Scotland".
But Graeme added: "They will have a difficult time getting a licence and getting going as the licences are given by Aberdeen City Council.
"It means every driver who wants to work for Uber will have to take the knowledge test and be licensed by the local authority."
A spokesman for Uber said: "We have been contacted by a number of drivers in Aberdeen who are really excited Uber is exploring launching in the city.
"In the UK only fully-licensed private hire drivers can sign up to the app and all drivers hold the correct hire and reward insurance."