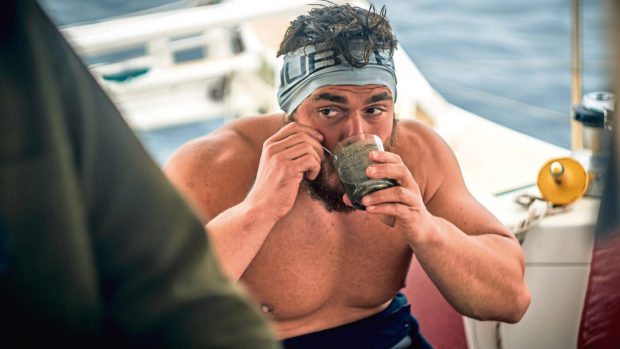 An adventurer swimming around Britain who needs to consume 15,000 calories a day said he is loving north-east cuisine.
Ross Edgley has been swimming around the country for the last 100 days and stopped off at Fraserburgh Harbour yesterday – but did not set foot on dry land.
The 32-year-old has already covered more than 1,150 miles and exceeded the previous world record for the longest staged sea swim of 73 days set in 1998.
A former water polo player for England, Ross said he had received a warm welcome in the north-east.
Having started in Margate, he has already swum clockwise around Britain, taking in the challenges of the Bristol Channel and Irish Sea and spending around 12 hours a day swimming.
While docked in Fraserburgh, Ross learned about local delicacies including rowies as he consumes a daily diet of 15,000 calories.
Ross said: "This is the first place I've come into and people have said 15,000 calories, no problem. That is why I love the north-east.
"I could love Aberdeen, because you get tides all the way down there, so it could be amazing.
"People have also been amazing and their first reaction including here has been 'do you need anything?'.
"It's been so nice to share experiences with people."
Ross has been helped along with his challenge by Red Bull and filming video blogs along his route sharing his experience in the Moray Firth and even coming into contact with a seven-metre basking shark at Loch Alsh.
It hasn't all been plain sailing for the adventurer though, as he has had to use gaffer tape and two kilograms of Vaseline to combat wetsuit chafing and has grown a beard to defend himself against jellyfish stings.
Ross added: "It has been a bit of blur all of it.
"Scotland has been amazing, the scene is incredible and the people are incredible too.
"Swimming through the night in the Moray Firth, you experience a darkness that I have never experienced before.
"It was cloudy so I didn't have any help from the moonlight, obviously there were no boats around and you are away from the land so you don't get any help from street lights.
"I couldn't see my hand in front of my face. It was amazing, you are left with your own thoughts which can be a good thing and a bad thing."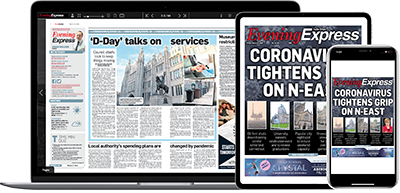 Help support quality local journalism … become a digital subscriber to the Evening Express
For as little as £5.99 a month you can access all of our content, including Premium articles.
Subscribe