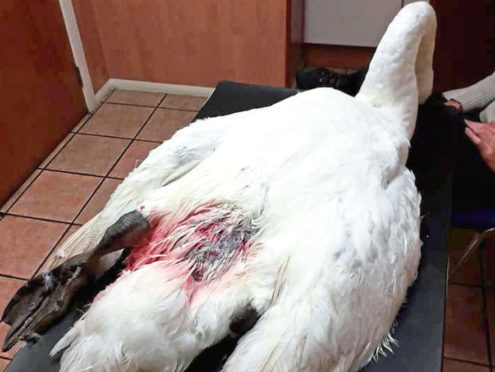 An animal sanctuary has hit out after a swan died after being badly wounded by a dog in a north-east town.
Keith Marley, who runs the New Arc animal charity in Ellon, was called to help the swan following the incident on Sunday at a popular dog-walking spot.
It is understood a dog had attacked the bird and once the owners got their pet under control they left the scene, beside the Ythan Bridge on South Road in Ellon.
The charity had been caring for the bird but it sadly died from its injuries.
Keith has called for the owner of the dog to come forward.
It is understood the incident was reported to police yesterday morning.
---
---
He said: "It happened at the main Ythan Bridge as you come into Ellon.
"The vet had called us and we were able to get to the area in around five minutes.
"The swan was in the middle island and one of our guys was able to wade in and get to it.
"Sadly, we have to announce that the swan we took in after a dog attack passed away due to its injuries.
"We would like to thank Glenythan vets for their prompt and caring efforts."
He said: "This isn't a witch hunt against dog walkers and I'm not calling for all dogs to be on leads.
"It is a very popular spot for dog walkers.
"However, when they know they are going to be next to wildlife, dogs should be on a lead.
"Accidents do happen and it can be a dog's instinct but all we ask is if it does happen that people take some responsibility and report it.
"I want to see the dog owner come forward and see the damage that has been done to the swan."
It comes after a swan was killed last year near the bridge in Ellon.
The bird died in November next to South Road after being hit by a 4×4 vehicle. A baby swan left orphaned by the incident was taken in by New Arc.
The cygnet was released back into the wild once it had recovered from the trauma.
Ellon councillor Gillian Owen said: "I was deeply disturbed to hear about this attack on wildlife.
"Swans can be aggressive but obviously not in this case and dog owners should be aware that if wildlife is around where they are exercising their dog they should be kept on a lead.
"No one wants to see this type of assault by one animal."
The Scottish SPCA said it was not investigating but had been alerted to the incident.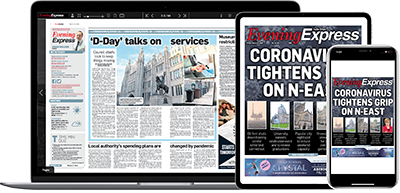 Help support quality local journalism … become a digital subscriber to the Evening Express
For as little as £5.99 a month you can access all of our content, including Premium articles.
Subscribe