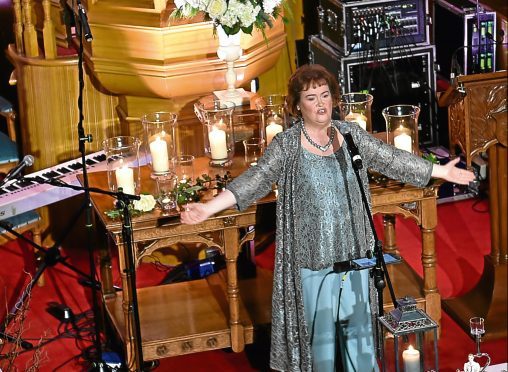 Singing superstar Susan Boyle brought people from across the North-east together to help pay tribute to those who have been affected by cancer.
The Human Anchor Light event was organised by Kilted Chef Craig Wilson, with a special appearance by the Britain's Got Talent sensation.
Hundreds of people turned out at Udny Green Church to raise money for charity Friends of ANCHOR, which supports cancer and haematology services at Aberdeen Royal Infirmary.
A variety of artists performed from fiddlers to well-known Scottish singers such as Fiona Kennedy.
At the beginning of the service Craig, owner of Eat on the Green, said: "Together we can find the strength to give others who have been touched by cancer or remember a loved one who has lost the fight."
Susan, who performed Hallelujah and I Dreamed A Dream, said: "It is wonderful to be here and be part of this truly magical event, seeing the human anchor of light was very moving."
The star, whose sister sadly passed away from cancer, added: "There really are no words to describe how fantastic it is to see so many people come out to support this event, and raise money for Friends of ANCHOR."
Chairman of Friends of ANCHOR and managing director of Balmoral Group Jim Milne said: "I have to give my thanks to those supporting this initiative – Craig and his dear wife, who have come up with the event which has certainly been a big success so far.
"We committed £1 million to the new oncology research team, we had three years to do it, but we did it in nine months.
"We at Friends of ANCHOR have a terrific team and we do what we can do to help patients and research."
Craig added: "I am so proud that we have done something so meaningful and that so many came out and got behind it."
The concert was followed by a band of pipers and hundreds of light-bearers on the village green, who created a human anchor of light.
A minute of silence was observed for those who had lost loved ones to cancer followed by a brief firework display.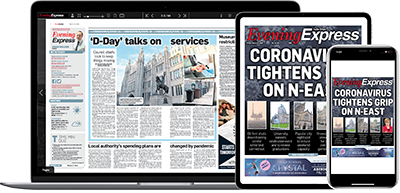 Help support quality local journalism … become a digital subscriber to the Evening Express
For as little as £5.99 a month you can access all of our content, including Premium articles.
Subscribe