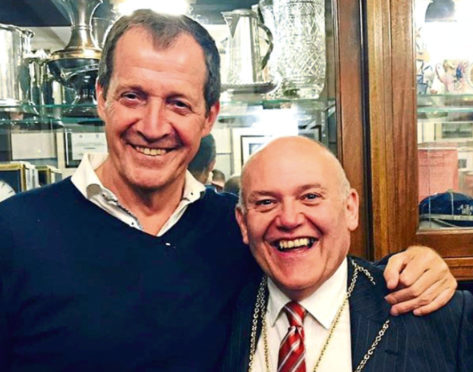 Tony Blair's former spin doctor has waded into the row over nine suspended Aberdeen Labour councillors.
Alastair Campbell, who stood by the former Prime Minister's side from 1994 until 2003, paid a visit to the north-east to watch the Dons play Burnley in Thursday's Europa League clash.
The Burnley fan called on the Labour Party to back its councillors in the Granite City, after meeting Lord Provost Barney Crockett – one of the suspended nine – at Pittodrie.
The members of the local group were suspended after last year's council elections, for forming a ruling coalition with the city's Conservatives.
The National Executive Committee (NEC) referred the final say to the National Constitutional Committee – and it is understood a final decision on their future with the party is now months away.
This followed a decision by the Scottish Executive Committee to refer it to the NEC.
Speaking after the game, Mr Campbell said: "It is frankly ridiculous that he and his eight colleagues, who do so much good for Aberdeen, find themselves in the position they are in.
"We live in a democracy, which sometimes means coalitions at national and local level.
"The question for Labour in Aberdeen, and nationally, is whether the council is delivering on its agenda.
"It has been said they are being punished for doing a deal with Tory councillors instead of the SNP.
"But surely the tests set for any coalition by the Labour Party are about what it delivers, not who it is with."
The Lord Provost said the former Labour communications director showed a "lot of interest" in the matter.
Mr Crockett added: "He's a detailed thinker and it was good to have that exchange with him.
"He can see we are delivering a very strong agenda and that Labour is delivering Labour policies and that's worth everyone getting behind.
"It was really good to get that discussion with someone who has been at the very top of politics and someone that can have a real influence."
Councillor Jackie Dunbar, deputy leader of the SNP group, said: "I'm sure the people of Aberdeen will just want to see this concluded so they can find out if they have Labour or independent councillors.
"Most soap operas don't drag out their storylines this long."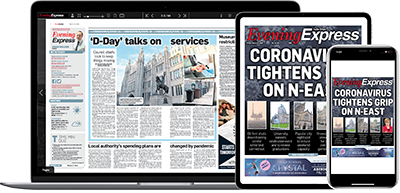 Help support quality local journalism … become a digital subscriber to the Evening Express
For as little as £5.99 a month you can access all of our content, including Premium articles.
Subscribe