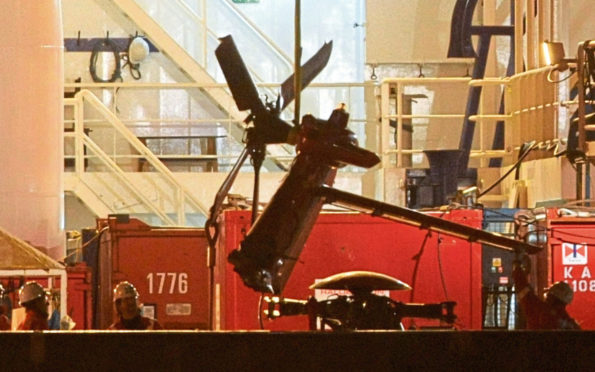 The 2009 Super Puma tragedy that left 16 men dead has led to a "renewed vigour" in aviation safety, a health and safety boss claimed today.
The Bond-operated helicopter was flying over the North Sea, en route from BP's Miller Oil Platform to Aberdeen, when it plunged into the water around 13 miles off the coast of Peterhead on April 1, 2009.
All 14 passengers and two crew on board died in the tragic incident, which was likely caused by a "catastrophic" failure of the main rotor gearbox.
In an interview with the Evening Express, Trevor Stapleton, Oil and Gas UK's health and safety manager, who was employed by BP at the time of the incident and worked offshore until 2007, said as an industry they learned they can "never be complacent".
He added: "You've always got to be on your guard.
"There certainly was a renewed vigour in aviation safety and even more focus than was currently employed."
In the last decade, a raft of "substantial" safety improvements have been introduced to improve safety for oil workers travelling offshore, according to the health and safety boss, with more measures being looked at to improve safety going forward.
Included within these are a range of stiff demands which were introduced off the back of the Civil Aviation Authority's (CAA) 1145 review in 2014.
As a result of this, a compressed air breathing system was introduced in April 2018 with offshore workers receiving formal training on how to use these.
This type of equipment provides a way to extend time underwater so that escape from a helicopter is achievable if not constrained by other factors.
The industry previously used rebreather systems which allow the user to rebreathe expelled air by directing it into a bag prior to immersion, but these do not work as efficiently deeper underwater.
The review also led to a limitation on the sea state – meaning that helicopters can only fly when the waves are below a set height of 6m.
Mr Stapleton said the industry is also looking to introduce better survival suits, improve workforce communication and is looking to upgrade personal locator beacons, which help search and rescue vehicles locate people in the water.
Helicopter operators are also considering the live use of data relating to the health of their aircraft, meaning parts can be ready for helicopters returning to base.
Mr Stapleton said: "If they can do live monitoring they can track the health of the helicopter so that when it comes into base it can go straight into the maintenance hangar and they can get straight to work on it.
"There's always going to be room for improvement."
He added other areas of improvement include more focus on monitoring dangerous goods such as avoiding allowing lithium batteries in the aircraft's hold, new lighting systems on heli-decks to make it easier to land and enhanced weather information.
Weather conditions also used to be gauged by individuals on the platform but there is now enhanced weather pressure and wind direction information which gets fed into a system, which pilots can download.
Meanwhile, more awareness is being highlighted into the phenomenon of 'triggered lightning', which typically takes place between October and March, to avoid instances of aircraft being hit.
It is believed these strikes occur as a result of the helicopters acquiring a negative charge during the flight. If the helicopter flies close to, or within an area of cloud that is positively charged, then the lightning is able to discharge on to or through the helicopter.
Aviation bodies working​ towards improving helicopter safety
Several organisations focusing on safety have also been set up in the last decade, including the Offshore Helicopter Safety Group, created to find out the opinions of the workforce and including unions, helicopter operators, oil companies, Step Change In Safety and Oil & Gas UK.
And Super Puma 225 helicopters have not been used by the industry since 13 men were killed after one of the aircraft came down near an island in Norway in April 2016, with Mr Stapleton adding he can't see them ever being reintroduced.
However, there are new helicopters in development including a new version of the Sikorksy S-92 currently used by much of the industry.
Mr Stapleton said: "S92 has a brilliant record. So much so that Sikorksy are looking at bringing in a new variant, the S92a. That's about two years away but it's such a successful model for them that they just want to look at change, particularly around the design and gearbox design.
"The Bell 525 helicopter is being flown on test flights.
"It's going to test in harsh conditions this year to support the Canadian oil industry and I think it's looking for European approvals next year.
"They're probably a couple of years away."
Mr Stapleton said there is an industry-wide effort to ensure the safety of those who travel in the North Sea, adding: "If you look at what where we were 10 years ago compared to where we are today, there is so much that has been done."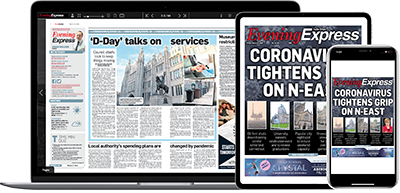 Help support quality local journalism … become a digital subscriber to the Evening Express
For as little as £5.99 a month you can access all of our content, including Premium articles.
Subscribe