The father of the young pilot who died with 15 other men when their helicopter crashed into the sea says he fears another tragedy in the North Sea.
Richard Menzies, 24, was the co-pilot on board the Super Puma when it plunged into the water north-east of Peterhead.
Aberdeen-based Richard was only six months into his dream career as a commercial pilot.
A fatal accident inquiry in 2014 found maintenance and communication failures by the aircraft's operators, Bond Offshore Helicopters, could have led to the crash but it determined there was not enough evidence for a criminal prosecution.
However, Richard's father Andrew fears the lessons have not been learned by the industry.
He said: "I remain cynical about safety and fear it is only a matter of time before it will happen again."
Mr Menzies, from Worcestershire, where a subsequent report by its coroner found the accident could have been prevented, said: "I wasn't happy with the air accident verdict as I don't think any blame seemed to be apportioned to the owners of the aircraft and the maintenance that took place.
"Commercial pressures will always win when the normal route for rig workers is by helicopter.
"I believe there are still huge commercial pressures on helicopters.
"The air accident investigation skirted round the issues.
"It struggled to identify a precise reason as to why it happened."
RMT regional organiser Jake Molloy added: "We believe the fact that aircraft flew that day was the result of commercial pressures.
"We maintain that commercial pressures on helicopter operators and the supply chain is impacting on health and safety."
Mark Swan, safety director at the Civil Aviation Authority, said: "Ensuring the safety of those who travel on offshore helicopter flights is one of the CAA's key priorities.
"We totally reject any suggestion that commercial pressures take precedence over safety requirements in offshore helicopter operations."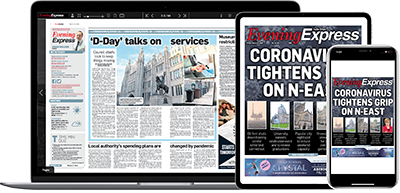 Help support quality local journalism … become a digital subscriber to the Evening Express
For as little as £5.99 a month you can access all of our content, including Premium articles.
Subscribe