Hundreds of students have voiced opposition to plans for an anti-abortion protest outside the Aberdeen Maternity Hospital.
The Aberdeen University Catholic Chaplaincy has displayed posters inviting people to mark Lent with "40 days of prayer and fasting for an end to abortion".
As part of this, the group is inviting people to "stand and peacefully pray in the public right-of-way" at the site off Cornhill Road.
But more than 250 students have signed a petition labelling the protest "deeply inappropriate" and requesting the posters be removed.
The petition, addressed to the Catholic Chaplaincy, said: "While we understand the church's stance on reproductive issues, we feel that it is deeply inappropriate to display posters encouraging people to take action outside maternity hospitals.

"Maternity clinics are accessed for many reasons and having a crowd outside is disruptive, intimidating and feels judgmental.
"People who access maternity clinics deserve privacy and to encourage – or endorse a campaign that encourages – action outside violates this.
"Deciding to have an abortion is not a fun or easy decision and it is incredibly personal.
"Material that appears to condemn those who have had abortions is actively harmful.
"Displaying such posters isolates, stigmatises and intimidates people, which is why we ask you to take the posters down."
A University of Aberdeen spokesman said it is aware of the incident, stating: "Our attention has been drawn to two small posters in support of the 40 Days for Life campaign which are displayed in the window of the Catholic Chaplaincy.
"This building forms part of the Catholic Diocese and as such, is not a university-owned or managed facility so falls outwith our control.
"The university seeks to foster healthy debate but will not tolerate any form of discrimination, harassment or victimisation."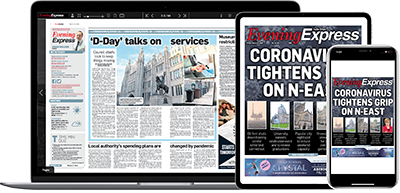 Help support quality local journalism … become a digital subscriber to the Evening Express
For as little as £5.99 a month you can access all of our content, including Premium articles.
Subscribe