A street artist has created mini works of art to scatter throughout an Aberdeen community.
The one-eyed and bearded cartoons can be found on stones in Torry and are part of the VictoriArt Road project.
The initiative – the brainchild of Torry residents and backed by artists, activists and Aberdeen City Council community workers – aims to brighten up the community and bring more people to the area.
The stones – known as Honkemons – are by an artist who goes by the name of Honk, who is also creating a mural.
Residents have been coming across the unusual stones with painted faces with #Honkemon painted on the back.
Honk said: "It is something I have been doing for about three years, where I find stones and draw faces on them based on the shape of the stone.
"I'm usually inspired by characters I see on the streets and try to use as much space on the stone as possible – which is why sometimes they only have one eye.
"It was during that Pokemon Go phase that I got the idea of using the hashtag on social media and at the same time it also lets me have a library of people who find the stones.
"Sometimes I get to see the reactions of people who find them and if it makes someone happy that's enough for me.
"I even try to leave them all over the world and ask people who go abroad to take them, but I decided to do the stones around the city more often as part of the build-up to the mural.
"It's fun to get people asking 'hmmm … where did this come from?' And later looking at the mural and thinking 'this looks like one of the stones I found'."
Honk's mural – on the corner of Grampian Road across from the police station – started to take shape on Wednesday..
Using plywood, Honk said he was inspired by the "weather-beaten" building and decided to use it as part of his installation's aesthetic.
A steering group initially decided the mural would be based on three themes – heritage and memory, languages and culture, and potential and economy.
Karen Cardno, a volunteer development worker for VictoriArt Road, said: "Honk is working on a wall which will be appearing about halfway up Victoria Road – I'm sure people will be able to spot it easily once it has been installed. Our other artists, Stuart Allan and Ugly People, are currently working on other pieces which will be appearing in the near future.
"It is an exciting time for VictoriArt as we begin to see the work being produced and we look forward to keeping the momentum going."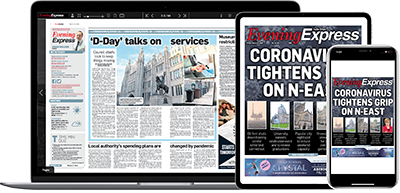 Help support quality local journalism … become a digital subscriber to the Evening Express
For as little as £5.99 a month you can access all of our content, including Premium articles.
Subscribe