A legal challenge against the Dons' planned stadium at Kingsford could fail in just a few days if those bringing it cannot prove they have up to £140,000, independent lawyers have suggested.
The No Kingsford Stadium (NKS) campaign group has said it plans to petition for a judicial review into the process by which Aberdeen City Council granted permission for the 20,000-capacity stadium.
No Kingsford Stadium group claim 'realistic chance' of winning judicial review of decision
Lawyers not connected with the case claim the group's challenge could fail in its aims for three reasons.
Firstly, NKS could be forced to prove within a week of the review starting that it could pay the council's and club's legal costs of around £140,000 if it loses – and missing the deadline would bring the review to an end.
Secondly, NKS could ask the court to limit what it must pay, but that would also limit what its own lawyers can be paid, raising questions on whether they would work for free.
And thirdly, if the review succeeds, lawyers say the stadium could be built anyway – so long as the council or club revisits the sticking points.
Campaigners have until July 22 to petition for a judicial review and it would likely be heard at the Court of Session in Edinburgh.
One key factor is whose name is on the petition.
If a named person fights the case, losing would mean they would have to pay the council's and club's costs totalling around £140,000.
However, this could technically be limited to just £3 if the case is brought by NKS.
An email seen by the Evening Express sent by one NKS campaigner to another last April details advice it received from an organisation which previously brought a judicial review in another case.
In the email, the campaigner said a company could be formed to fight the case and added: "Should the company lose in court then it could be folded so that costs cannot be recovered against it.
"The liability is the costs of any unpaid share capacity – and if we keep this capital at £1 per share and only have three shares then our liabilities will be tiny."
This approach creates the risk of the council and club losing around £140,000 in legal fees – and it's understood this could jump to £210,000 if NKS asks the court to stop construction work on the stadium development and the club successfully argues it has been hit financially by that decision in the event of NKS losing the case.
Dons' chairman Stewart Milne offers to meet No Kingsford campaigners to find a way forward
One lawyer told the Evening Express that, to prevent being hit with fees, the council and club could ask the court to force NKS to handover a bond proving it could pay those fees in the event that it loses.
That bond would have to be put up by a deadline, usually seven days, or the case would be thrown out.
Alan Sinclair, partner at Addleshaw Goddard LLP, an international business law firm with offices in Aberdeen and elsewhere in the UK, said: "There is a risk in litigating against a company with little or no assets.
"Ultimately, if the other side (in this case the council) are successful, there will be no way to recover the expenses awarded by the court.
"The principal way of protecting against this risk is to ask the court to make an order that the other party put up some security for the costs. This is called caution for expenses."
Mr Sinclair said judges are more likely to grant a caution for expenses in cases brought by companies without assets – known as nominal pursuers – that have been formed solely to fight the review, as there is an increased risk of the other party not being able to recoup expenses.
He added: "Where a company is formed for the sole purpose of pursuing a court action which is in the interests of its members, that company is likely to be seen by the court as a nominal pursuer.
"This is one of the recognised circumstances in which the court will consider granting this form of security.
"If the court makes an order for this form of security and the funds cannot be found before the deadline set, the case may be dismissed."
Another possibility is NKS could ask the court for financial protection in the event it loses the case.
This request, called a protected expenses order, would mean NKS would only have to pay the council and club £5,000 if its case fails. NKS has raised this option in a post on its website and has argued it could get such an order because an organisation fighting another judicial review, Edinburgh-based firm St Andrews Environmental Protection Association Ltd (STEPAL), got such an order.
Sarah Baillie, planning partner at Addleshaw Goddard LLP, said: "There are divergences in approaches to protected expenses orders so it would be dangerous to compare cases.
"The court applies criteria to each particular set of facts and circumstances including assessing each case's reasonable prospects of success. It can refuse a protected expenses order on those grounds.
"STEPAL is also a registered charity with charitable objectives to benefit a community, whereas NKS is a shelf company."
If the order was granted and NKS won the case, the council would only have to pay NKS £30,000 towards its legal costs.
Another legal source, who did not want to be identified, explained further: "The cost to NKS's lawyers is likely to be more than £30,000 and it casts doubt on whether they would effectively work for free past the £30,000 mark."
Ms Baillie, who is a Law Society of Scotland-accredited planning law specialist, said: "The best the objectors can hope for is there has been a manifest error in the way the decision was taken and that error would have led to a refusal and so the planning permission is quashed and is back before the council for redetermination.
"There is nothing to then stop the council reaching the same conclusion again – this time in a legally valid way.
"There would also be nothing to stop a further application being submitted while the court case was ongoing.
"It would then be senseless for an objector to continue with the court case or raise a new one because they would already be defeated by the second determination and with nothing to show for it other than a substantial legal fee."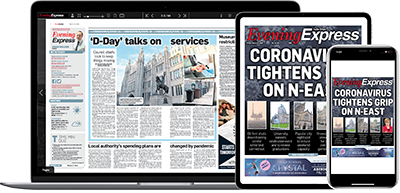 Help support quality local journalism … become a digital subscriber to the Evening Express
For as little as £5.99 a month you can access all of our content, including Premium articles.
Subscribe