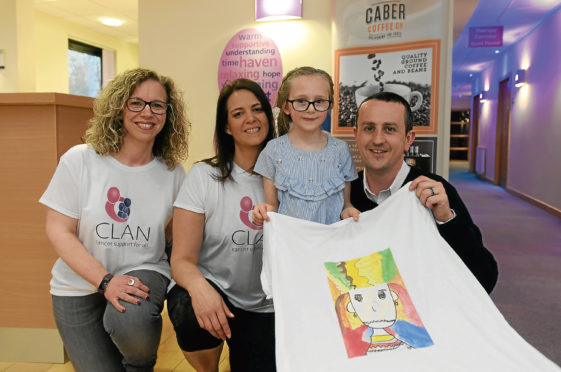 A North-east woman has taken on a year of personal challenges to raise money for two Aberdeen charities close to her heart.
Stacy Edghill, 42, is pushing herself out of her comfort zone and taking on a number of physical trials throughout 2018 to raise money for CLAN Cancer Support and Ditch Debt with Dignity.
She said: "I have been quite into fitness for the last four or five years.
"I first did the Tough Mudder four years ago but then I had a few injuries and I've only recently recovered from those.
"Initially I had just agreed to sign up for a few things and then I realised that I was doing 12 or 13 and I thought it was worth looking to raise some money for charity.
"I had initially thought of doing something like this for my 40th birthday year but since that wasn't possible I thought it was better late than never."
Stacy, head of business growth at digital growth agency Wired Studio, added: "I chose these two charities as they both mean a lot to me.
"Everyone has been affected by cancer in some way and CLAN does incredibly important work. Ditch Debt with Dignity is a charity very close to my heart.
"As a single mother of two, I struggled with my finances and learned so much. I joined Ditch Debt with Dignity a couple years ago as an adviser and sit on the board."
Stacy has already completed her first challenges, including running 100 miles throughout February, the Tartan Warrior 5k obstacle run, which she completed with her nine-year-old niece Brooke, and an abseil off the AECC tower.
Stacy, from Aberdeen, said: "The abseil was by far the worst one. I have a real fear of falling, so that was absolutely terrifying – it was worse than any of the other ones I've done."
In the months ahead, Stacy will take part in a number of other challenges including the Great Aberdeen Run half-marathon, the Halloween Glack Attack 5k obstacle course and the Beach Ballistic 32k ultra-obstacle run.
Stacy has also received the support of North-east business Caber Coffee.
Director of the company Findlay Leask's six-year-old daughter Indee has also designed a special mascot for Stacy's year of challenges called Mrs Funny.
Findlay said: "Indee had been doing a lot of artwork through school.
"Indee then told me that she wanted to help raise money for charity with her creations and that's when she created Mrs Funny. I put up her campaign on LinkedIn and that's when I saw Stacy's list of challenges.
"I put two and two together and decided to help out by offering to support Stacy and that she could use Mrs Funny as her mascot for the year and wear a Mrs Funny T-shirt during her challenges.
"I asked Indee and she was delighted by the idea and I'll also support Stacy by matching up to £500 of the money that she raises for charity.
"I'm so proud of her. It was all 100% her idea to raise money for charity and both myself and my partner really wanted to encourage that."
Stacy added: "I think it's a really lovely idea. Findlay wanted to support Indee's efforts and also help out with my fundraising as well. I'm really keen for the rest of the year and happy to have Caber Coffee and Mrs Funny on board."
To donate to Stacy's cause visit: bit.ly/2H6Pkyc and bit.ly/2H5aIj9