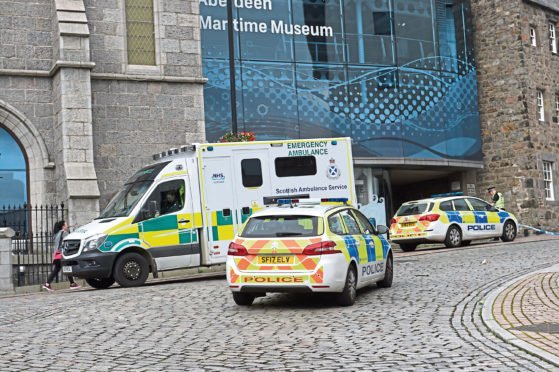 A man thought he was going to die after being stabbed four times, an attempted murder trial has heard.
Darren Beattie, known as Carr, gave evidence in the trial of Anthony Higgins, who is accused of attempting to murder him at the car park on Shiprow on September 12 last year.
Giving evidence via videolink to the High Court in Aberdeen, Mr Carr described how he initially thought he had been punched and did not realise the severity of the situation.
Higgins, 34, is alleged to have assaulted Carr in the car park, repeatedly struck him on the body with a knife to his severe injury, permanent disfigurement and danger of life and attempted to murder him.
Higgins is also accused of calling Sarah Algie, who was going to be a witness against him in a separate matter, a "grass" at Aberdeen Sheriff Court on the same day.
He is further accused of having a knife in public, assaulting Kieran Reid by punching him on the head and attempting to pervert the course of justice by disposing of a jacket and a knife.
Higgins, of Worsley Crescent, Sparrowhill, Liverpool, denies all charges and has lodged special defences of self defence and incrimination.
Under questioning by advocate depute Eric Robertson, Mr Carr told the court he had gone with his best friend Mr Reid and others to support his partner at the time, Ms Algie, who was due to be a witness against Higgins in a separate case.
The court heard the two parties later came together in the car park on Shiprow and there was a fight.
Asked what happened, Mr Carr said: "I felt four, it was like, rib punches.
"I didn't know I was stabbed until a couple of seconds after.
"He was holding something. I didn't think it was a knife. I thought it was an e-cig."
Mr Carr said the wounds were in his back and he spent a number of weeks in hospital following the incident. He added: "I just thought I was going to die."
Matt Jackson, representing Higgins, said: "What happened here is you told Sarah Algie to stop the car because you wanted to get to Anthony Higgins. You went to try and get him out the car so you could assault him. You pushed him against the car. Kieran was trying to stab him. He got you instead. That's what happened isn't it?"
Mr Carr said: "If that's what you want to believe, that's what you want to believe."
The trial continues.