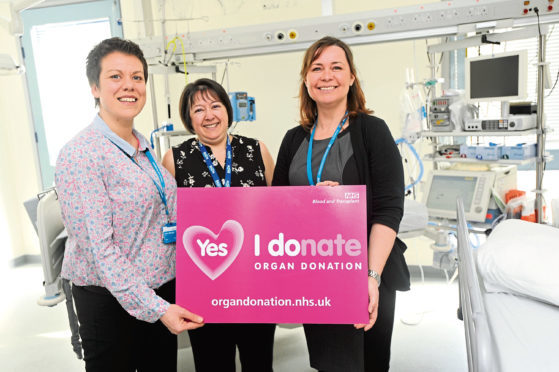 A specialist nurse in organ donation has encouraged people to discuss their wishes after death with their families – to make sure they are fulfilled.
With Organ Donation Week currently ongoing, the Evening Express spoke to Claire Morphy, a specialist nurse in organ donation for NHS Grampian, who works with the families of the deceased, to see whether it would be an option for them to donate their loved ones' organs.
Claire, who has worked in the role for the past three-and-a-half years, helps families come to a decision.
Although there are around 550 people in Scotland awaiting a transplant, the waiting time differs depending on how ill a person is, and the organ they are waiting for.
Claire said: "It very much depends why they became ill, and it will be different for every organ.
"In NHS Grampian, we have 52% of people signed up, and it's 50% across Scotland. In England, it's 38%."
Her day-to-day job involves dealing with the families of people who die in hospital, and are therefore eligible to donate their organs.
She said: "Although 50% of people are on the register, there's a very small amount of people who can donate.
"There are very strict circumstances. They need to be in intensive care and they need to be suitable.
"We got about 50 referrals last year. That's why we need everyone to sign up.
"We need to make sure that we offer the opportunity to donate to everybody.
"We speak to every family, and we need everyone to make that decision.
"I wouldn't be comfortable with someone making the decision for me.
"I try to encourage everyone to speak to your family about it.
"Don't allow someone else to make the decision for you."
Video: North-east transplant girl's plea for others to become donors
This year, the campaign is called We Need Everybody.
A healthy person can donate a kidney to their friends or family, or to a stranger, and lead a normal working life with only one kidney.
When a person dies, they have the opportunity to donate organs and tissue, which will go towards saving the lives of seven people, or more with tissue.
Claire added: "The push of our campaign is that we need everybody.
"People make stipulations that they wouldn't be wanted because they are a smoker, or for other reasons, but we literally need everybody to make that decision.
"It doesn't matter about their age, race or sexual orientation.
"Every single person has the potential to donate something. You can even donate your corneas.
"Donating can go towards saving the lives of seven people.
"Hearts and lungs and livers literally save lives.
"They improve lives, dialysis is so limiting. People who have received kidneys, it's given them a new lease of life, there's no need to do dialysis."
There is currently legislation with the Scottish Government that would change the current opt-in system to 'opt-out'.
At present, people must opt in in order to have their organs donated for transplants after they die, however, under the new proposals, which were tabled in June, it will be assumed that people were in favour of donation unless they have specifically stated otherwise.
Medics will still check with families to confirm that they understand the process.
It is a system that is being used in Wales, which came into effect in December 2015.
Claire said: "It's something that is best left for politicians, but anything that increases the amount people on the organ donation register is good.
"Wales have had it for a while, but it's probably still too early to tell if it really makes a difference."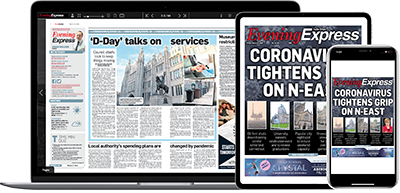 Help support quality local journalism … become a digital subscriber to the Evening Express
For as little as £5.99 a month you can access all of our content, including Premium articles.
Subscribe