A new multi-million pound school for youngsters with complex needs in Aberdeen is to be delayed by five weeks, it has been revealed today.
The new £17 million school will provide education and support for up to 150 children and young people with severe, complex educational and medical needs.
It will replace Woodlands School, Hazlewood School and the pre-school additional support needs provision currently located within Seaton School.
The centre of excellence on Howes Road will be named Orchard Brae and the new development will be the first of its kind in Aberdeen.
But it has now been revealed the project is due to finish in August – five weeks behind schedule. It comes after councillors and other guests were given a tour of the site yesterday.
An update, which is to be heard by finance, policy and resource committee councillors on Thursday, states: "The contractor is reporting that the project is running five weeks behind programme.
"Officers are considering the full impacts of this delay."
The centre of excellence will be delivered by Aberdeen City Council and its development partner Hub North Scotland Limited.
Ogilvie Construction is the main contractor.
City council finance convener Willie Young today said he was disappointed to hear the revelation.
He said: "A lot of the issues are to do with utilities.
"They are trying to catch up.
"Five weeks of a delay is disappointing but the most important thing is the school opens in August and there isn't a danger of that not happening.
"We have invested millions in a wonderful school."
Cllr Young added that projects in other areas of Scotland have also encountered problems.
"We aren't the only ones where projects have been delayed," he said.
"We have seen delays with the AWPR as well as Scottish Government projects and those in other local authority areas.
"It's unfortunate."
Ogilvie Construction was unavailable for comment.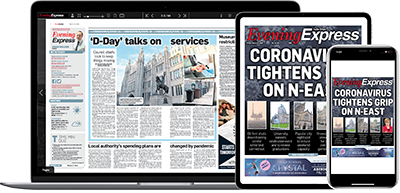 Help support quality local journalism … become a digital subscriber to the Evening Express
For as little as £5.99 a month you can access all of our content, including Premium articles.
Subscribe