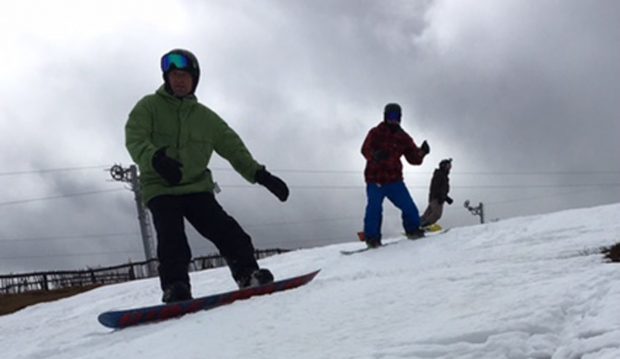 A North-east ski centre has seen its worst season in almost four decades.
James McIntosh, from the Lecht ski centre, was speaking after recent snow allowed the facility to reopen for the past few days.
He said: "We are so chuffed the snow has eventually come, but it is very late in the season for it."
For the last two days the Cairngorms centre has seen ski and snowboard enthusiasts head to the hills for a bit of late season fun.
James, who has owned the centre for nearly 40 years, said: "This season so far has been one of the poorest with only a couple of days of snow to allow for skiing to take place.
"We are used to having bad seasons in Scotland but we haven't had one for a while.
"We weren't prepared for this at all.
"I have been here 38 years and it is fair to say this year has been the worst ever, the only plus side is that when there is bad winters the following one normally seem to be really good. So here's hoping next year is a good one for us."
With conditions picking up James said he is planning to open the centre tomorrow and on May day.
He added: "The weather is starting to be favourable so we are planning to open right through until May day.
"We had around 50 or 60 on Thursday which is not bad considering the wind and the fog.
"We are supposed to shut in May to get ready for opening up for biking in July but if more snow falls then we may remain open.
"Ourselves and other centres around the country are the face of skiing in Scotland so it is good to keep the reputation up as much as possible but sometimes nature doesn't help us."
Meanwhile, Glenshee was unable to open over the last couple of days.
Sarah McGuire, finance manager at Glenshee, said: "We have only had 18 days open this year when the average season is normally between 60 to 90, it has been tough for us but hopefully next year is better."