Signs on Aberdeen bridge hit out at mental health care
Signs have been placed on a prominent Aberdeen city centre bridge in a bid to bring about an improvement in mental health services.
The posters on Union Bridge highlight the length of time people suffering mental health issues have to wait to receive help, as well as calling for mental illness to be treated the same as physical conditions.
They were placed on the bridge after campaigners took part in a silent march last weekend.
Protesters described provision for mental health patients as "disgusting".
Organiser Olivia Park, who has also set up a charity called Mental Health – Make a Change to support people, said: "It's a sensitive subject but it needs to be spoken about more. We can't keep going on and ignoring the issues – that's part of the problem.
"The council erected a flimsy, ugly looking fence to stop people from jumping. It only serves as a constant reminder that there are problems with the mental health services and that those in the council are never really going to come up with a real solution.
"Waiting times are varied but they are always completely unacceptable waiting times for someone who is contemplating suicide or struggling with mental health. The lack of services, training and funding is, quite frankly, disgusting.
"This is becoming something of an epidemic and something needs to change immediately.
"There are so many people who are in desperate need of help who are not receiving it.
"We hope it will not only draw attention to the problem but also help people see they're not alone."
---
---
The campaign has been welcomed by city councillors.
Martin Greig, Aberdeen City Council's Liberal Democrat social care spokesman, reiterated calls for more to be done for those struggling with mental health.
He said: "I welcome this carefully worded display.
"The information has been put together in an appropriate and respectful way.
"It is time to raise awareness that this is a really major health problem in our society now.
"Mental health problems are increasing so we need a longterm approach to improve help and support services.
"The initiative in Union Street is a positive contribution to the debate we should be having."
A spokesman for NHS Grampian said: "Speaking generally, we work to ensure that people with the most urgent conditions are seen first.
"In the Children and Adolescent Mental Health Service, for example, all patients are prioritised according to risk and need, with all emergency cases being seen within 48 hours and urgent cases in seven days."
Anyone seeking help can call Samaritans 24/7 free on 116 123 or visit Samaritans.org.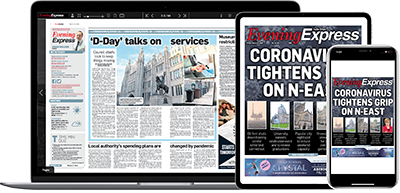 Help support quality local journalism … become a digital subscriber to the Evening Express
For as little as £5.99 a month you can access all of our content, including Premium articles.
Subscribe