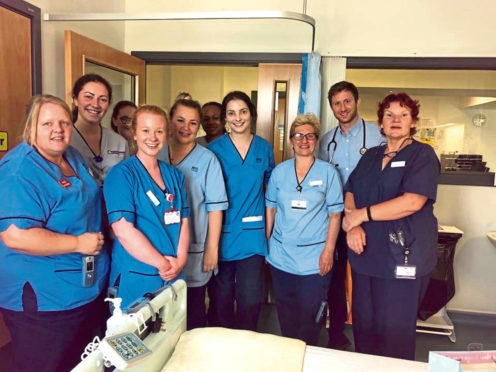 A deaf elderly patient was given a special surprise as doctors and nurses learned how to wish her happy birthday in sign language.
Margaret McRobbie of Mannofield was faced with the prospect of spending her 88th birthday in Aberdeen Royal Infirmary after being admitted with chest pains.
Her son Dennis, 59, went to visit with a cake and flowers when the ward staff made the heartwarming gesture of serenading the pensioner with a rendition of Happy Birthday in British Sign Language.
Dennis said: "My mum was admitted to the hospital after complaining of chest pains and we had been awaiting the results of some tests.
"We had previously thought she would be sent home before her birthday but the doctor said that the results would take longer than anticipated.
"We were disappointed but planned to come in anyway to celebrate with her."
What the McRobbie family had not anticipated was that doctors and nurses on the ward, who had overheard the birthday plans, would then spend their breaks learning the signs for the lyrics of Happy Birthday.
Margaret, who had worked for most of her life in the laundry department at Woodend Hospital, has been deaf from birth and now lives in sheltered accommodation in Craigielea Gardens.
Dennis, who is the only hearing member of his immediate family, spoke of his surprise at the kind act.
He said: "My family had gathered in my mum's room when the nurses and doctor came in to sing Happy Birthday.
"My mum was very surprised and got emotional, as we all did."
Dennis, from Udny Green, has recently started a job at Aberdeen Royal Infirmary as a porter, after a career in the oil and gas industry.
He said: "So far, when working at the hospital, I have been surprised with how many people know basic sign language.
"I am used to being the mouthpiece for the family but it's not something I mind.
"I think my mum has got used to people not always being able to communicate, but it's great when people make the effort. This is the first time something like this has happened."
Dennis's partner Carol Craig was so touched that she contacted NHS Grampian to thank them for their work.
Staff nurse on ward 110 Dawn Kane said: "We are bowled over by the kind words of the Craig family.
"It was a pleasure to mark this birthday in such a special way."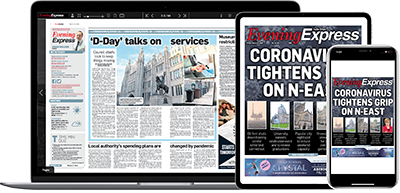 Help support quality local journalism … become a digital subscriber to the Evening Express
For as little as £5.99 a month you can access all of our content, including Premium articles.
Subscribe