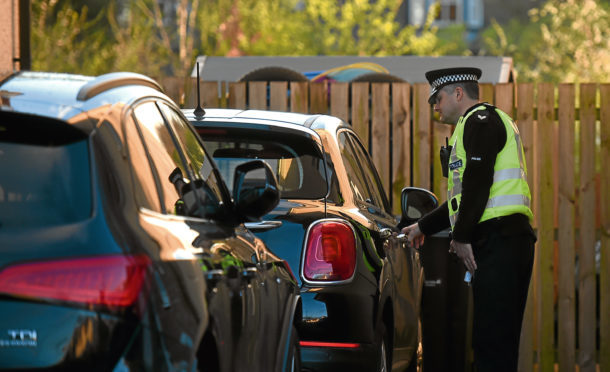 A police operation found a quarter of cars had been left unlocked – despite warnings thieves will target them.
In a hard-hitting police operation witnessed by the Evening Express, police toured the streets of the city and Aberdeenshire and tried to open doors of homes and cars – with 25% of cars tried open.
Residents were left shocked after officers called round and told them: "You're helping criminals win".
The Evening Express looked on as officers opened 23 of 92 car doors with ease – and also opened 10 unlocked front doors.
One of those who left their car insecure had been a victim of crime just a week earlier – after leaving their vehicle unlocked – and another left their Audi TT and BMW cars insecure and their front door unlocked.
Some of those targeted in the operation said they have learned their lesson, but police were left concerned that many people's reaction was blase.
​"What we've seen is just an ordinary weekday night. We could go to probably any part of Aberdeen in the city or the suburbs and find the same," said Inspector David Cowie.
He added: "We understand people have busy lives and we're not pointing the finger at them.
"The examples we've seen tonight, there was almost a blase response from some people, but it's a completely different story when people wake up to find their car not there."
The operation came after four vehicles worth a total of more than £100,000 were stolen in the north-east in just one night – and three had been left unlocked.
It is understood offenders in this type of crime are generally aged between 16 and 25 and are intent on stealing items from within vehicles or taking them for joyrides, rather than being members of sophisticated organised crime groups.
One tactic criminals use is to arrive in a quiet residential area late at night on a motorbike, with the rider keeping watch while the passenger tries car doors. They will then flee with valuables from the cars or will try house doors to see if they can find the keys to drive off.
Joined by Insp Cowie and Sergeant Simon Lewis-Dalby, the Evening Express started the evening in Cults.
The officers set about trying car doors – and the very first property they came to had an unlocked Audi TT, an unlocked BMW and an unlocked front door.
Insp Cowie knocked on the front door and provided Chin Tang with some crime-prevention advice.
Mrs Tang, 38, said: "I am shocked. It is a wake-up call, definitely.
"It is great what the police are doing. We've heard about the spate of car thefts and we are trying our best to remind each other about the importance of locking doors.
"We'll try harder now – especially because our car keys could have been stolen from the house."
The mother-of-two added: "It can be hard because when you're getting the kids out of the car, you can easily get distracted and forget to lock up."
Police found many other vehicles and homes to be secured.
Insp Cowie said: "Our aim is always to target that 10% of people who routinely keep their property unlocked."
Along the way, one resident, who asked not to be named, said: "I applaud what police are doing. They mention the 10% – but even 1% is too many. People need to do their bit."
Round the corner, Sgt Lewis-Dalby noticed a pushbike left unlocked and unattended outside a house.
He told the owner Ajay Sharma: "If you have a bike that's worth £500 outside, ask yourself – would you leave £500 unattended outside?"
Mr Sharma, 45, told the Evening Express: "I'm going out to pick up my child so I put it outside for half-an-hour, rather than opening the garage. We keep the bike inside only at night. I understand the police's point that it only takes a minute for a thief to come along, and I will take better care."
He added: "People being so laid-back is quite shocking. We should know that it's not the police's job to lock our cars, it's ours."
Not long after, police found a Volkswagen people carrier worth upwards of £35,000 unlocked, and Insp Cowie provided the owner with advice.
The next stop was in Westhill where, like in Cults, a quarter of all car doors police tried were unlocked.
In some cases, both cars on a driveway were unlocked.
One woman told the Evening Express: "It isn't worth stealing anyway."
She added: "Whether or not you lock your door depends on what you're doing in the day. You can think your partner locked it and they can think you locked it, so it can get confusing."
Louise Lacaze, 44, whose BMW car was found unlocked by police, said: "I've seen the police warnings online and my dad has had golf clubs taken from his car."
Insp Cowie said: "This demonstration tells us that a significant amount of people in Aberdeen and surrounding areas must have faith in human nature because it seems that locking their car isn't a priority for them.
"We have to urge people to take five extra seconds that will significantly reduce their risk of being a victim of crime."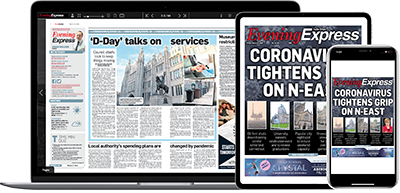 Help support quality local journalism … become a digital subscriber to the Evening Express
For as little as £5.99 a month you can access all of our content, including Premium articles.
Subscribe