Shetland ponies have been visiting care homes across the north-east as part of a project to help people living with dementia.
The therapy ponies took on a starring role at an NHS Grampian Dementia Conference yesterday, to help raise awareness among staff about the latest care, support and research on dementia.
The condition affects almost 10,000 people in the north-east, which is a rise of more than 45% compared with figures in 2007.
Speaking at the event at the Aberdeen Exhibition and Conference Centre (AECC), Lyn Irvine, dementia nurse consultant for Alzheimer Scotland and NHS Grampian, said: "This is our fourth annual NHS dementia care conference, something that we feel very passionate about in NHS Grampian. We recognise that dementia is a growing health-related issue for everyone.
"We've got approximately 85,000 people in Scotland living with dementia and it's about how we can raise awareness with our health and social care colleagues as well as supporting family members and people living with dementia.
"We have, as part of our programme, therapy ponies. We recognise the importance of supporting people who may be experiencing stress and distress as part of their condition.
"We recognise how important it is to use social interaction to support people.
"The ponies have been very successful across Scotland and they've been visiting care homes in Grampian.
"We thought we would take them to the AECC to meet some of our staff."
The ponies are taken to meet people with dementia living in care homes.
So far they have been to Ellon, Fraserburgh and Aberdeen.
Dogs are also used as therapets as it helps to make people feel comfortable in what can be a confusing and stressful time. There are plans for the ponies to visit dementia wards within NHS Grampian in the near future.
Lyn added: "Previously we recognised the value in interaction with dogs, so we've had therapets in our hospital settings and care homes in the community, but I think the attraction of the small ponies seems to be something people enjoy. Their size and the fact that they are cute and lovely to cuddle appeals.
"We're testing what would work well and people love lots of different animals and have lots of different pets throughout their life, so why not?
"It's an exciting time.
"We need to think how we can do things differently.
"It is about person-centred, individualised care. Not everyone had dogs growing up. Some people grew up on farms. What works for one person might not work for another, so let's give things a go."
The number of people living with dementia in Scotland, and in the north-east, has seen a significant rise over the past 11 years, and is expected to increase.
Teams who work with dementia patients are frequently looking for a way to support those living with the condition without using medication.
Dr Jennifer Adams, consultant psychiatrist in older adults mental health, said: "We see a lot of different symptoms in dementia, and that could be anxiety or agitation or confusion at their situation. Ponies are very calm. They unconditionally come and play with them, and it just has a relaxing effect without using medication.
"Music is another thing we use quite frequently.
"We see benefits on a daily basis. We're always looking at different ways to do that and improve the care without using medication.
"We're going to see more and more of this kind of thing."
The use of therapets is something that not only benefits patients, but also families and staff.
Dr Adams said: "It helps them interact, because sometimes that's difficult because of the dementia, so it helps that bond.
"I would even say it has benefits for the staff, because there's the chance to have some relaxing time with their patients and provide some care which is not the structured care they do all the time.
"Medications all have side effects, and there's growing evidence we should be trying to use other non-drug methods.
"There's a lot more options we're starting to broach now, and certainly if we can avoid using things that could make them fall, or make them dizzy or sick we're going to do that."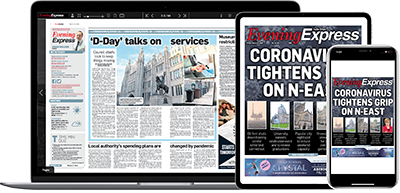 Help support quality local journalism … become a digital subscriber to the Evening Express
For as little as £5.99 a month you can access all of our content, including Premium articles.
Subscribe