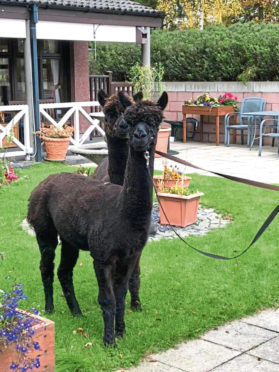 Alpacas have been helping put smiles on the faces of north-east sheltered housing residents.
A trio of alpacas visited Dalvenie Gardens Sheltered Housing in Banchory after an invitation from the manager of the complex Fiona Pirie.
And the residents were delighted to see Jack, Fargo and Boris.
Fiona said: "They're absolutely gorgeous.
"We've seen the value of having pets and other animals in with older people before.
"As soon as you get a dog that comes in, everyone's face lights up.
"We're always on the lookout for something different for our residents."
According to Fiona, the story behind how the alpacas were invited was a strange one.
Fiona was put in touch with the owner of the alpacas, Michelle Vickers, through her mother, whom she had met earlier in her career when looking after Michelle's grandmother at another centre.
She said: "It was one of those really random meetings.
"I saw a lady sitting there and I thought: 'I know your face'.
"We got chatting and she was telling me about her daughter, and said that she now owns alpacas and they were looking for them to be used more as therapy pets.
"So we got in touch with Michelle, and she said that she'd love to do it."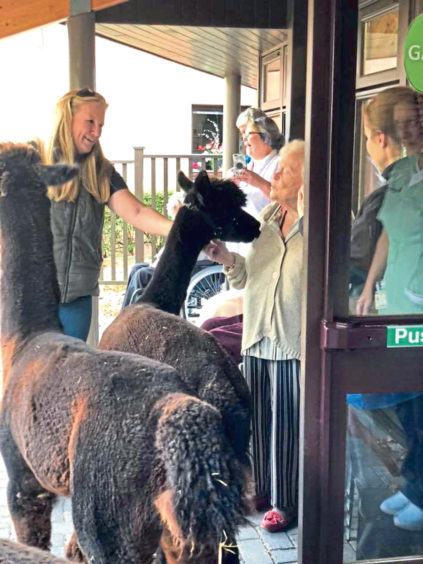 The trio visited the centre during the summer to make sure that all would go well, but it wasn't long before the residents were asking for them back.
Fiona said: "We had one tenant who couldn't actually wait for them to get unloaded.
"As soon as she knew they were coming, she was out there waiting for them.
"Most of the residents came out into the secure courtyard area to have a cuddle and a stroke.
"They're just absolutely adorable."
Fiona wants to have the trio visit again and hopes they can be there a few times a year.
She said: "It makes such a big difference to them.
"You can see the smiles on the residents' faces.
"We have residents who are really looking forward to them coming in and doing something different.
"I love to see the expression on their faces when the alpacas come in, because they are different.
"Yes, there might be different dogs that come in, but it's a highlight for them to see and touch something more unusual."
Michelle said: "Fiona got chatting to my parents, and they started talking about how she wanted to do something involving animals.
"We agreed that we would have a trial session, and then if all went well, we would make it a more regular thing for the alpacas to go down there."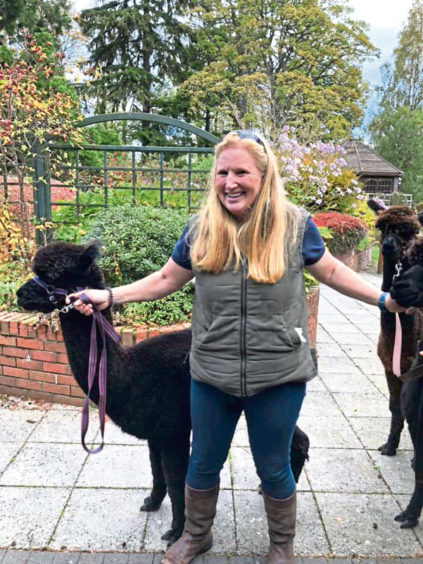 Michelle, who has owned the three male llamas since February, said this was her first move into the world of pet therapy.
She said: "My first alpacas arrived in February so this is all quite new to me.
"We went to Dalvenie in the summer to see if they would be okay, and that's when they asked us to go back because the residents liked it so much."
To Michelle, the stress relief offered by alpacas is of immense value.
She said: "They put a smile on your face, they de-stress you.
"They're very inquisitive and they engage with people, so people want to engage with them.
"They're also very calming and they slow things down."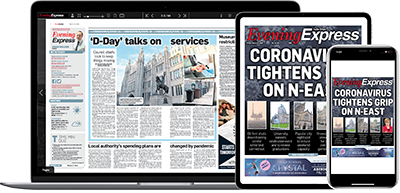 Help support quality local journalism … become a digital subscriber to the Evening Express
For as little as £5.99 a month you can access all of our content, including Premium articles.
Subscribe