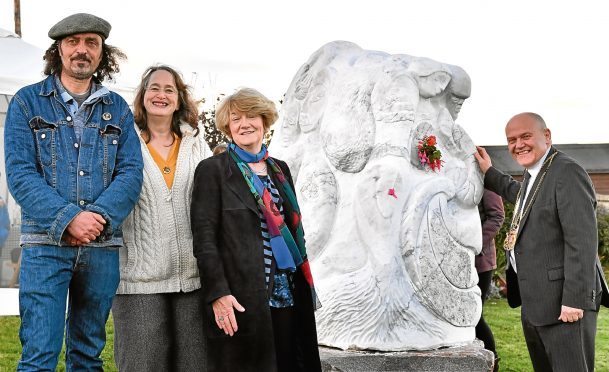 A statue that celebrates a city community's last traditional fishwife has been unveiled.
The sculpture of Isie Caie was revealed to the public yesterday at an event on The Green at Stoneyhill, Cove.
It comes after Cove in Bloom lodged plans to find the statue a permanent home in June.
Isie, who died in 1966, is famed as the last fishwife of Aberdeen and has become an integral part of Cove's folklore.
She could regularly be spotted walking into Aberdeen from Cove carrying a creel filled with fish on her back, which she would then sell.
Brazilian sculptor Albertino Costa was commissioned to create the marble memorial of Isie last year.
Wendy Suttar, from Cove in Bloom, said: "We didn't give our sculptor a rigid pattern to work to, that's not the way he works, but he learned the basic story of Isie Caie and her labours before we even moved the marble to the harbour at Cove Bay.
"Throughout that time he has been talking to everyone who visited the harbour, many of us helped him take the first layer off the stone with his little chipping hammers, preparing it for carving.
"All the time he speaks to folk he is learning more about the fishing industry in Cove.
"There are still a few residents who remember Isie, and they love to talk about earlier times, as we all do.
"What Albertino learned about the fishing went into his work."
According to legend, it would take two men to lift the heavy creel of fish on to Isie's back before she made her journey into Aberdeen.
At the unveiling her granddaughter Christina MacSween gave a touching tribute.
She said: "I am only sorry my father was not here to see it.
"Today she is Isie and not granny.
She was the most important person in my young life.
"I know if she were here she would be overcome that she was recognised."
Isie passed away on May 2, 1966 and is buried in Nigg Kirkyard.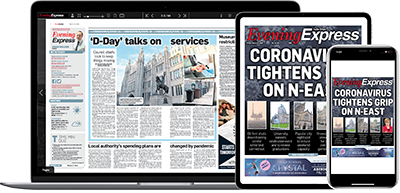 Help support quality local journalism … become a digital subscriber to the Evening Express
For as little as £5.99 a month you can access all of our content, including Premium articles.
Subscribe