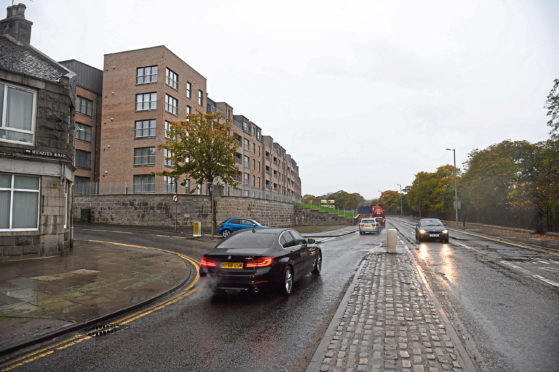 The Scottish Government has rejected an offer by the city council to buy a 40ft strip of land for £5,000.
The local authority offered the cash to purchase land beside the former Craiginches Prison in Torry in order to dual a section of Wellington Road.
However the Scottish Government is demanding £230,000 for the land – a decision Aberdeen City Council co-leader Douglas Lumsden branded a "disgrace".
In August 2017 the Valuation Office Agency gave two figures for the purchase of the land.
The first, based on the assumption that the site could have been included in a residential development on the site of the former Craiginches Prison, was of £230,000.
A valuation of the ground reflecting the current situation as a strip of land between the road and the development was also provided – which was £5,000.
Mr Lumsden said: "I'm very disappointed we had it valued at £5,000 and think it's a disgrace that they're looking for more money as we are the lowest funded council in Scotland."
But opposition SNP councillor Alex Nicoll said: "There was a clear written agreement with the Government that the land would not be built on – leaving it free for the council to purchase with a view to dualling.
"The decision to drive a wedge into the middle of this agreement reflected terribly on the council then, as it does now.
"Sadly, for my constituents, and all commuters, this administration continues with its obsession of picking fights with the government rather than delivering for the city."