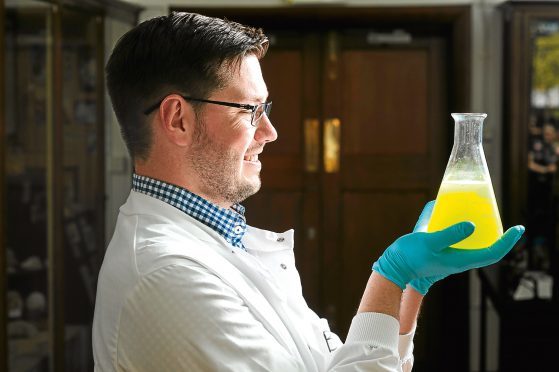 A North-east scientist is using waste water from the whisky industry to boost the health benefits of salmon.
Douglas Martin, of Aboyne, developed a microalgae which he hopes will revolutionise the animal and fish feed industry and boost the omega content of the fish.
The algae could be used to supplement feed in place of fish products.
At present small fish are ground up and mixed with vegetables and soya beans, in a practice which is not sustainable in the long term due to dwindling fish stocks.
Additionally, the omega content of farmed salmon has dropped by half over the past five years.
Douglas' firm MiAlgae produces the nutrient-rich microalgae in giant stainless steel tanks using waste water from the whisky industry.
Douglas said: "What we do is we produce microalgae which is actually the basis of were the omega comes from in small fish anyway.
"The aqua-culture feed industry is growing really, really quickly and the supply is not able to keep up.
"It's not a sustainable way of doing things.
"Over the last five years, especially in Norwegian salmon, the amount of omega 3 has decreased by 50%, so we're hoping to bring that back up."
At present, the aquaculture feed industry is worth £17 billion globally, but that figure is expected to double over the next 15 years due to the rising consumption of fish.
Douglas came up with the idea while working in the North Sea installing cables.
He said: "I came up with the idea while we were offshore in a German wind farm and we had to stop working because of an algae bloom.
"If we can use waste to grow algae, what can we then do with the algae?"
The 26-year-old, who now works full time at MiAlgae, said reaction to the idea has been promising.
He said: "We've had a lot of support and positivity from industry and investors and climate people. I really hope it has a massive impact, but it will start off quite small and it will be a few years before we can have that impact."