Parents at a north-east school are hoping to raise cash to pay for new play equipment.
The parent council from Aboyne Primary has already collected £5,000 in the past year – and is aiming to do the same this year.
The group is unsure of the cost of the equipment, so does not know how much they will need to be raised.
A series of fundraising events were held to bring in the cash and another programme of events has been released for the coming year.
Becky Redmond, the fundraising manager for the parent council said: "The playground needs renovated. There's currently not much in it, other than the sensory garden.
"In current times, when council budgets are squeezed, play equipment isn't necessarily the first priority and I understand that."
Becky says parents had raised concerns over the state of the playground at the beginning of last year, which prompted the start of the drive.
---
---
She said: "We've had a lot of feedback from teachers saying they want to use the playground for outdoor learning.
"It's something that the school does already, but we would want to enhance that."
Becky pointed out that staff and pupils have been and will continue to be involved in the whole process of designing the new playground.
She said: "We're not trying to be too prescriptive and we're taking views from the teachers, pupil support assistants and the pupils themselves."
The council has invited different contractors in for a site visit and they will then submit designs and costings, which will then be chosen by a vote among the pupils and staff at the school.
An Aberdeenshire Council spokesman said: "Aboyne Primary is looking forward to involving pupils in choosing a design for new play equipment which will add to existing sensory and woodland outdoor play areas. It's great to see fundraising by the parent council going so well."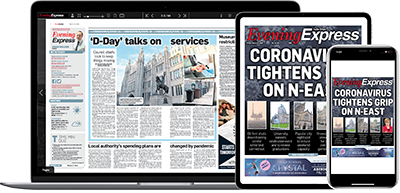 Help support quality local journalism … become a digital subscriber to the Evening Express
For as little as £5.99 a month you can access all of our content, including Premium articles.
Subscribe