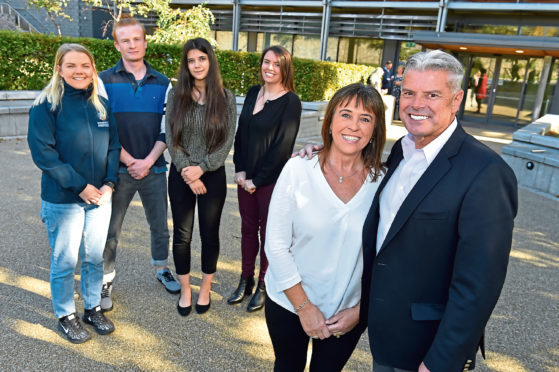 A north-east businessman and his family have donated more than £270,000 to a university medicine and business scholarship programme.
The Aberdeen University Cormack Family Foundation Scholarships was founded by Dave Cormack, his wife Fiona and daughter Dr Sarah Cormack-Patton.
Now the first wave of scholars benefiting from the foundation have been introduced.
Dave said: "It felt like a natural option to combine business and medicine for the foundation.
"With my background in business, I am very passionate about giving young people the opportunity to start a career in the field, and we are very aware of how important encouraging young people to go into medicine is.
"We want to encourage people from schools in less well-off areas to believe they are able to do anything. We have also found that people from these backgrounds are often more likely to engage with communities as doctors."
The three young people to benefit from the scholarship are Seb Siegrist, 20, Diana Pituc, 18, and Marielle Tulloch, 24.
Seb, from Keith, was in care throughout his childhood and is now studying medicine at Aberdeen University.
He said: "I left school when I was in fifth year and began working. I then went to college in Aberdeen before beginning pre-med and eventually ending up here.
"I was always interested academically but I think for kids in foster care, it's unusual to end up in an academic field – there are only 300 kids in care at university across Scotland.
"I don't want to just be a doctor – I want to be a really good doctor and use my background to relate to my patients who otherwise might feel they can't talk to their doctor."
Diana, who is originally from Romania, moved to Aberdeen when she was 14 and attended Northfield Academy. She is now studying medicine.
She said: "I didn't have the best background. I just never felt that university was an option for me.
"When I began at Northfield my teachers were amazing. They were so supportive and I felt they made my dream possible.
"I have always wanted to be able to help others so to be studying medicine is amazing."
Marrielle, from Turriff, is studying for a degree in accountancy. She said: "I started working at 14 and first did an HND at college in fashion.
"I then went into first year at Heriot Watt but because I have a chronic inflammation condition, I had to drop out. Afterwards, I decided I wanted to do something more stable and so I chose accountancy.
"I went back to college and did my HND and then got accepted into Aberdeen University.
"I've never been confident in my abilities and I never thought I would get to where I am now."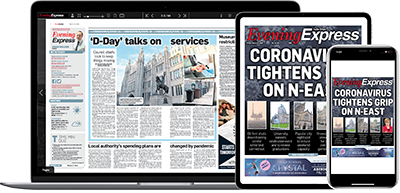 Help support quality local journalism … become a digital subscriber to the Evening Express
For as little as £5.99 a month you can access all of our content, including Premium articles.
Subscribe