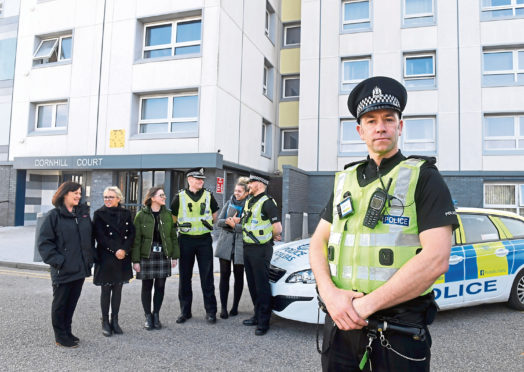 Residents have given a warm welcome to emergency services after they started a week-long scheme to tackle antisocial behaviour.
Police and firefighters joined Aberdeen City Council housing officers in Mastrick and Northfield yesterday for the first day of the initiative.
It began with officers touring the Cornhill and Rosehill high-rises to look for defects that can be repaired.
They found a number of items, including a discarded sofa, which will now be uplifted.
Fire officers delivered fire-prevention leaflets to hundreds of properties in the morning and then returned in the afternoon to offer safety advice.
Emergency services are hoping residents will feel more confident reporting incidents if they see authorities being proactive.
PC Richard Arton said: "It's about opening up lines of communication with the community and giving them an avenue to report any concerns they may have.
"We've brought in our Safe Space vehicle, which allows anyone to call in and talk about problems in private, so they're not doing it out on the street."
---
---
One of those who spoke with police was Victoria MacAdam, 31, of Mastrick, who said: "Usually when you see so many police and firefighters you think it's because there's been some big incident, so it's nice that they are here.
"It sounds like they will get a lot done this week – but they need to be approachable all year round."
Simon Peterson, 58, of Mastrick, said: "I got a fire leaflet through the door. It's really good that they are coming round to offer a hand. We need more schemes like this here."
Later this week, there will be increased police patrols outside schools in the area and residents will be able to ask for help from city wards, street pastors, community food initiative CFINE and other groups.
They will then carry out the same patrols in the Moir and Cummings Park areas of Northfield throughout next week.
The areas were chosen by police as local residents often complain about youth annoyance and antisocial behaviour there.
PC Arton said: "It's been a good start and the weather definitely helped.
"When it's warm and sunny, people are more likely to come out and speak to us, though we've tried to be as approachable as possible.
"I would ask people to be confident in coming over to say 'hello' and ask if we can help resolve any issue that is impacting on their community. We're here to help."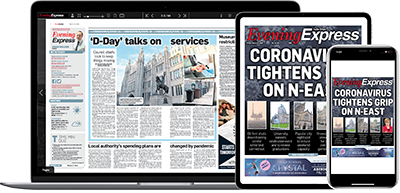 Help support quality local journalism … become a digital subscriber to the Evening Express
For as little as £5.99 a month you can access all of our content, including Premium articles.
Subscribe