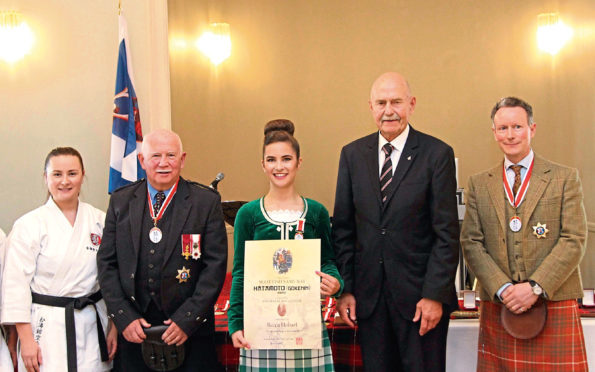 North-east residents have been honoured for their outstanding contributions at an awards bash.
The Order of Scottish Samurai (OSS) accolade marks achievements in sport, the arts, science, business and community, as well as celebrating the cultural ties between Scotland and Japan.
At the ceremony in Maryculter House Hotel, 23 awards, known as Shoguns or Samurais, were handed out.
A Samurai celebrates someone who has served well, while a Shogun recognises achievements in a particular field.
Two previous Lord Provosts, Margaret Smith and Margaret Farquhar, received Shogun awards Orderfor services to Aberdeen.
Duncan McPherson and Robert Boyd received Legendary Samurai Awards for services to the Japanese martial arts.
Terry Boyle and Tyrone Smith were awarded OSS Shogun and Becca Hobart collected an OSS Hatamoto for services to the Order of the Scottish Samurai.
Links between Scotland and Japan date back to the 19th Century when Thomas Blake Glover, an industrialist born in Fraserburgh, became known as the Scottish Samurai due to his influence in Japanese society.
---
---
Blake Glover arrived in Nagasaki in 1859 and went on to found the now multinational automotive manufacturer Mitsubishi, and constructed Japan's first modern shipyard.
Masami Fujimoto, deputy consul general at the Consulate-General of Japan in Edinburgh, helped hand out the awards to recipients.
Founded and overseen by Aberdonian Ronnie Watt, the Order of the Scottish Samurai is an award inspired by Blake Glover and recipients are encouraged to use the letters OSS after their names.
Mr Watt is supported by patrons, members and recipients like Lord Bruce and Joanna Lumley, who take an active interest in the relationship between the two nations.
Previous recipients of the awards have included Sir Ian Wood and Alex Salmond.
Full list of award winners
Garry Stevens – Services to Scotland, Aberdeen and the community
Lee McRonald – services to Scotland and Japan
Norman McPherson – services to medical charities
Mary McPherson – services to medical charities
Gordon McCathie – services to Japanese martial arts
Becca Hobart – services to the Order of the Scottish Samurai
Duncan McPherson – services to Japanese martial arts
Robert Boyd – services to Japanese martial arts
Sally Johnson –services to education and the community
Janet McRoberts – services to education and the community
Terry Boyle – services to Japanese martial arts
Tyrone Smith – services to sport and broadcasting
Suzie Huggins – services to Japan and Scotland
Mark McCue – services to charity
Dr Margaret Smith – services to Aberdeen and the community
Margaret Farquhar CBE – services to Aberdeen and the community
Hector Emslie – services to tourism
Dr Irene Watt – services to the arts and to Scotland and Japan
Dr Tom McKean, Alistair Robertson – services to sport and to Aberdeen
Lord Provost Barney Crockett OSS Gt Shogun –services to Aberdeen, the community and to Scotland and Japan