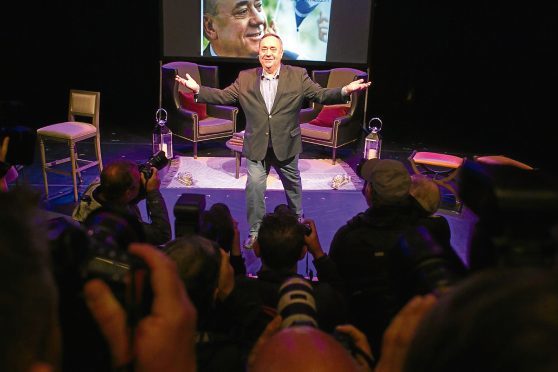 Former First Minister Alex Salmond is set to bring his sold-out Edinburgh Fringe show back for an extended tour – with the first date scheduled for the North-east.
After 19 sold-out shows at the annual Edinburgh Fringe Festival and more than £23,000 raised for charity, the popular Alex Salmond …Unleashed will return for a mini autumn tour, before a bigger tour in spring next year.
It originally ran from August 23 to 27 at this year's Festival Fringe at the Assembly Rooms ballroom, and was organised by Cahoots Theatre Company.
Former Gordon MP Mr Salmond said: "We had about 50 requests to take the show on tour.
"There'll be five performances this autumn and more in spring."
The first two shows will be held at the Tivoli Theatre on October 14, with a matinee and an evening show.
"It's like a miniature His Majesty's, it's stunning. I'm delighted to start off on home ground," Mr Salmond said of the theatre, which underwent an extensive revamp in recent years.
Fans of the Edinburgh show are in for a treat as the show-time has doubled to around two hours. Designed to entertain, there'll be a monologue from Mr Salmond himself and some political aspects, but the show also promises music, comedians and even Donald Trump impersonations.
The line-up includes comedians Janey Godley and Des Clarke, The Carloways and Sheena Wellington, who will be reprising Robert Burns' A Man's A Man For A' That which she sang at the opening of the Scottish Parliament in 1999.
Adding to the night's entertainment are the mystery guests, who are kept completely secret until they're announced on stage – to add to the atmosphere.
Guests at the Fringe show included Brexit Secretary David Davis, Scottish Brexit Minister Mike Russell, former Celtic footballer and current Hibs boss Neil Lennon, and comedian John Bishop.
Mr Salmond said: "It's about friends, fun and freedom. The subject really depends on the guest and it's a lot of audience participation as well.
"The first time the audience find out who the guest is, is when they are on stage. It's a really varied assortment of guests. It keeps an element of surprise."
The show came about when Cahoots Theatre Company approached the former First Minister after the general election, as they had a spot they were hoping to hold a political event in, and soon after it turned into a variety show.
Kicking off in Aberdeen, the autumn tour was designed to visit areas where it might be more difficult to get to the Fringe from so that more people have the opportunity to see the show.
Mr Salmond said: "It's quite a trek for people in the North-east to get to Edinburgh.
"We're trying to go round places that people might not get to the Fringe as easily from.
"We have a matinee show, so people get the opportunity to come in the afternoon or make an evening of it.
"I really enjoy doing it, I'm glad to be bringing back people we have for the show because they are such good laughs."
The performance has a charitable aspect behind it, with more than £23,000 raised over the festival for various charities.
The mystery guest on the night chooses the charity that money raised will be donated to.
A range of organisations have benefited so far, including cancer research charities as well as leukaemia and hospice funds.
Money was also raised to support victims of the Grenfell Tower fire, as well as international charities.
And it's hoped to continue giving to good causes with the new tour.
Mr Salmond said: "We'll be thinking of a way to have a charity aspect in the new shows as well."
A change from his previous political roles, he said the tour gives people the chance to see him outwith an office setting.
"When I was a lad I was a boy soprano. Perhaps it's a reversion to old habits," he added.
"Obviously the title of the show gives a clue – you can say and do things when you're not in office.
"It gives you the chance to do and say things you couldn't in office and obviously see different sides of me and see a lighter touch.
"I'm pretty overwhelmed about it. It was the biggest selling ticket at the Fringe. The four extra shows sold out within the hour, so we're hoping for a good response."
He said he was looking forward to bringing it to the North-east, and added: "It's great to start in Aberdeen. I did an event there two years ago and now the whole area is open.
"It's just a lovely theatre."
Alex Salmond…Unleashed will be at the city's Tivoli Theatre on October 14 for a matinee and evening show, Alloa on October 20 and Galashiels on November 24.
The spring tour will see Mr Salmond take on more and bigger venues, including Dublin, Glasgow, London and even Monaco.
For more information call 01224 641122 .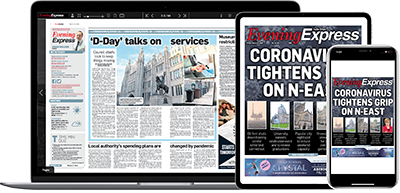 Help support quality local journalism … become a digital subscriber to the Evening Express
For as little as £5.99 a month you can access all of our content, including Premium articles.
Subscribe