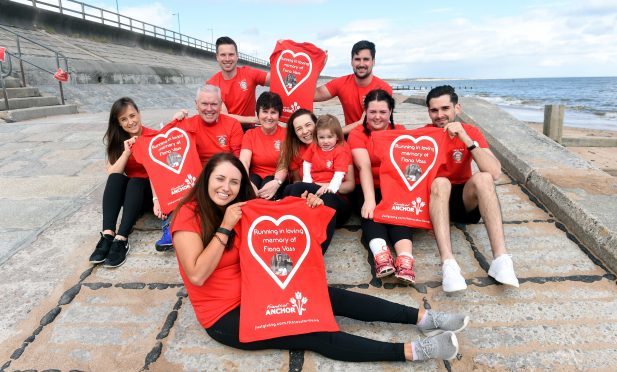 A group of Aberdeen runners have banded together after losing a friend to cancer.
Fiona Vass, from Aberdeen, was diagnosed with breast cancer in 2009.
She was treated in the ANCHOR Unit at the Aberdeen Royal Infirmary, but sadly lost her battle with the disease in December last year, aged just 57.
In the wake of the loss, Fiona's friends and family have now come together to do something in her honour.
Her niece Kirsty Anderson is heading up 25 runners, who have dubbed themselves Fitness for Fiona, as they prepare to take on the Baker Hughes 10K in Aberdeen.
All the money raised will go to Friends of ANCHOR (FOA), who supported Fiona throughout her treatment.
Kirsty said: "Fitness for Fiona is a group made up of Fiona's friends, colleagues and family; including her fiancé, sons and even her grandsons.
"Fiona knew first-hand the difference that the North-east charity makes to patients so when we decided to do something for her, we knew we wanted to support FOA."
Fiona herself was no stranger to fundraising. She took part in the first Courage on the Catwalk event in 2013 to raise vital funds for the ANCHOR Unit, which she said cared for her so well during her cancer treatment.
Kirsty and her group will be running on Aberdeen's Beach Boulevard on May 14 alongside 90 other runners committed to supporting FOA.
To date, Fitness for Fiona have raised more than £2,100 but it is just the beginning of their fundraising efforts as they intend to continue raising awareness and cash for others who are still battling a cancer diagnosis.
FOA is hoping to attract more than 100 runners to help raise funds for North-east radiotherapy and haematology care.
The North-east charity still needs runners for the 2017 race and is encouraging anyone interested to sign up.
With charity entries closing on April 28, anyone who would like to take part should e-mail foa@balmoral.co.uk to sign up.
Every penny raised by the charity will go directly to the cause, because all the running and administration costs are covered by Balmoral Group, which has supported FOA for 20 years.
To support Fitness for Fiona visit www.justgiving.com/FitnessforFiona